In our day-to-day busy lives full of projects and deadlines and responsibilities… it's natural to get overwhelmed every now and then, both mentally and physically. At such times, we need to stop, take a break, and relax completely. And what would do a better job at relaxing the body in a short time than a massage chair?
Massage chairs help our muscles release built-up tension while also improving circulation. The stimulation that massage chairs give aids our body to loosen up and relax properly. It cools us down, and the comfortable feeling helps us calm down mentally too. 
Having a good massage can lower stress and anxiety levels while also helping you sleep better. And after a good night's sleep with a relaxed body and calm mind, your productivity and attention span would, of course, see an improvement too!
Massage chairs come in numerous types too, so no matter who you are, there will always be a massage chair just perfect for you. But unfortunately, it's not possible to get to a perfect massage chair whenever you need it unless… you have one right in your home, accessible to you at all times! And seeing the numerous benefits of owning one, why not go for it? 
Now I know what you might be thinking. The best massage chair can be expensive, it can take a lot of space, it is not durable, and so on and so forth. Well, not these chairs… Here are five massage chairs that not only come with a number of features and specs that are suitable for all your needs, but are also super affordable and make for a good long-time investment. Read on!
Table of Contents
Best Massage Chairs Under $400
Best Overall
HomCom is a reputable brand that brings quality products at an affordable price. This heated massage recliner chair from HomCom falls just shy of $400 or closer to $300, depending on the color you choose, and brings you a lot of features that can stand up to many higher-end massage chairs.
The one we are talking about today is the dark-brown chair, which is actually a really rich shade. It also happens to be the cheapest option at around $340, followed by a black option, which is about $370, and lastly, we have white, which is the most expensive at around $390.
It is thickly padded with a foam sponge to provide you with the necessary comfort. The chair is upholstered with faux leather to give you a modern look, and it also makes the chair easier to clean and take care of.
It is one of the highly customizable massage chairs at this price. It lets you activate eight motors either separately or together. These vibration motors, depending on how you use them, can be used for your whole body, if you use all the motors, or for targeted areas, if you use the individual motors.
Along with the customizable settings, you get pre-programmed massage settings so that you can just turn it on and relax. There are 5 massage options to choose from. It also presents three swing options, 2 speed options, and different intensity options. There is also a heat setting for you to get heat-therapy.
The contoured design makes sure that the spine's S-shaped natural curvature is followed so that you have proper support and also a targeted massage experience. The back can recline up to 150 degrees to allow you to lie back properly and enjoy the massage.
It can support weight up to 330 lbs. The steel frame makes it stable to use the 360-degree swivel function even if you are pushing the maximum weight limit. It also comes with a retractable footrest, to use when needed and to store away when not. 
There's a side-pocket for anything you need easy access to or to have your remote handy. The remote makes using this chair even more convenient. If all of these things weren't enough, to sweeten the deal up for you, both the armrests also have cup-holders. Yay to sipping on iced-tea when relaxing and having dedicated cup-holders to not make a mess!
HomCom Heated Massage Recliner Chair is Suitable for:
This massage chair is suitable for a family where many people of different heights and weights and different needs will be using the massage chair. 
It can support a wide range of heights and weights and also has a range of pre-programmed and customizable massage options to work on specific problems of different people with targeted rollers, speed options, and intensity level options. To top it off, you get all this at a budget price.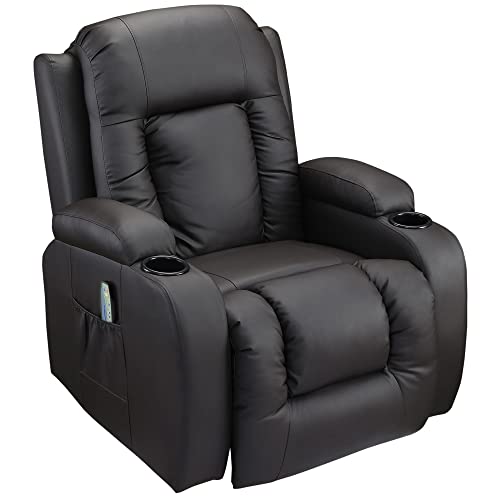 HOMCOM Luxury Faux Leather Heated Vibrating 8 Point...
Recline in Comfort and Style: With overstuffed padding, soft faux leather, heating and vibration options, full reclining, and a handy remote...
Soothing Heating Function: A heating function in the waist area warms and helps soothe the body's aches and pains as you sit and recline....
Vibrating Function Throughout: This recliner chair has a total of eight vibrating massage motors that target four zones in the upper and...
Pros
It supports a wide range of heights and weights.
It has pre-programmed and customizable massage settings.
It has various speed and intensity levels.
It follows the natural S-shape of the spine.
It has a side-pocket and two cup-holders.
Cons
While it accommodates many ranges, people taller than 6 feet might feel a little uncomfortable.
It tends to get too hot.
---
Best Value 
The Relaxzen Deluxe massage chair is even better than the best overall massage chair option we talked about. But, this is, in its true sense, value for money. As it is cheaper than HomCom and also provides more customization.
It is small and compact and can support up to 300 lbs. It comes with an ottoman for added comfort. This one is thickly padded for comfort. The ottoman can be moved to match your position. You can pull it closer while sitting and push it farther when lying down.
The one we are discussing is black in color and has a PU leather upholstery combined with a natural tone real wood base. You get another option, which is a chocolate brown chair with a microsuede upholstery and the same wood base in a lighter tone. This chair offers one of the sleekest looking bases.
I chose this one because PU leather is easy to clean, and black can easily blend in with the decor. Although the microsuede option is slightly cheaper than the PU leather option, the difference of $20 is almost negligible.
It has the same eight massage motors for vibrations that can be used to target independent massage zones. But, it has 9 pre-programmed massage modes, and to customize it even further, you get five intensity levels. 
The heating feature can be used with or without these modes, giving you the flexibility to switch up your massage routine. The soothing and targeted heat treatment in the lumbar region is one of the selling points for people complaining of back pain and lower back pain. 
For a more relaxed experience, you can recline in this chair with the help of swift recline tension adjustment. You can recline up to an angle of 145 degrees without any issues. It also comes semi-assembled, and you get a limited warranty of one year.
RelaxZen Deluxe Padded Leisure Massage Recliner Chair is Suitable for:
This chair is suitable for people with lower back pain complaints as it has a dedicated soothing heat treatment option available for your lumbar area. It is also highly customizable, so you can easily target different pain points of your body.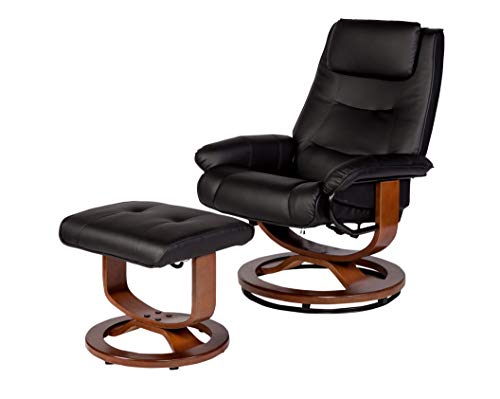 Pros
It has a soothing heat treatment for your lumbar area.
There are eight vibrating massage motors.
You get nine pre-programmed massage modes and five intensity settings.
PU leather upholstery is easier to clean and is durable.
It can handle up to 300 lbs.
The base frame looks sleek and is made of real wood.
Cons
The ottoman movement is manual, so it can't be controlled via the remote. This can be a pain every time you need to adjust it.
It could be more stable.
---
Best Design 
Best Choice Products Faux Leather Electric Massage Recliner Chair is one of the best chairs for massages available in the market today. This chair caters to all your leisure and relaxing needs that a massage chair can provide you with. 
This chair comes with wireless remote control, thus avoids the issue of reaching for buttons in the chair and optimizes the user experience. It has 5 pre-programmed massage settings, with 9 intensity levels on it, to give you a nice soothing experience.  
Further, the massage chair does not only have vibrating sensations to knead out knots in the lumbar and the thigh area but also has a heat setting in its backrest to give the optimum massaging experience a massage chair can give.
Further, for a more relaxing experience, this chair comes with a reclining feature, padded with its soft, comfortable backrest and ottoman footrest, to lay back and enjoy the massage given.
This chair is available at an extremely reasonable price for the quality and the services that it provides, as compared to its competitors in the market.
Best Choice Electric Massage Recliner Chair is Suitable for:
This chair is suitable mainly for home use, for leisure, and for relaxing purposes. This can be a great addition to your house furniture, which gives your house a unique look and gives the users a relaxing experience.
This chair thus becomes a great product for getting regular massages and provides great comfort over regular furniture at a really reasonable price.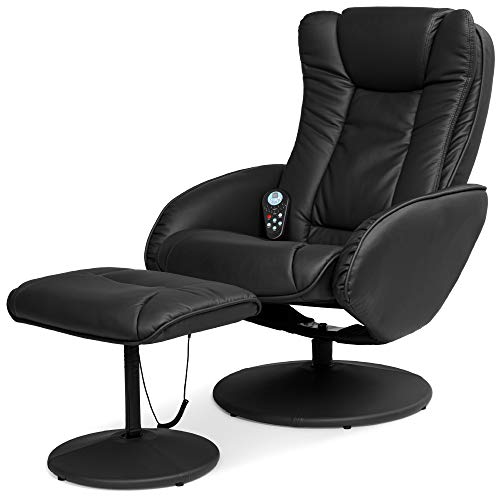 Best Choice Products Faux Leather Electric Massage...
MASSAGE + HEAT: Loosen up from top to bottom with heat in the chair's backrest, plus massage points in the seat and ottoman to knead the...
CHARMING FURNITURE: This comfy addition to your living space also provides an elegant, inviting appearance that makes the living room and...
COMFORTABLE RECLINE: A double-padded backrest reclines for blissful relaxation, while soft armrest, seat, and ottoman cushions provide...
Pros
This chair  comes with a wireless remote control.
It comes with pre-programmed massage modes.
One of the best pros of this product is the heating option in the backrest of this chair.
The ottoman, double padding in this chair, also comes with a built-in side pouch to keep magazines or snacks in it while enjoying the massage. 
This chair is quite easy to assemble and has a classy look to it, which adds something special in your furniture set, without looking out of place.
Cons
This chair keeps on moving from its place. The wheels could have been more stable.
---
Best Heated
The HomCom High Back Adjustable Heated Executive Massage Chair is one of the best-heated massage executive chairs in the market today. This chair is extremely multifunctional and is a perfect option to fulfill the leisure needs of its users.
This chair has a remote control with 6 different massage and heating variations set along with a time setting. The PU leather body gives it a niche and durable look, which can be used in professional settings too. The leather makes it easy to clean and also stain resistant.
This chair can recline up to an angle of 135 degrees to provide superior full-body support. Furthermore, this chair also is quite durable and can support up to 265 lbs. Thus, satisfying all the needs of the users at a reasonable price.
HomCom High Back Adjustable Heated Executive Massage Chair is Suitable for:
This chair is most suitable for office and home settings, where after a long tiring day, you can just sit back and let the chair take away all your stress within a couple of minutes. Office employees have long working hours and a lot of stress in their lives, and to combat that, this chair is the best device.
Sale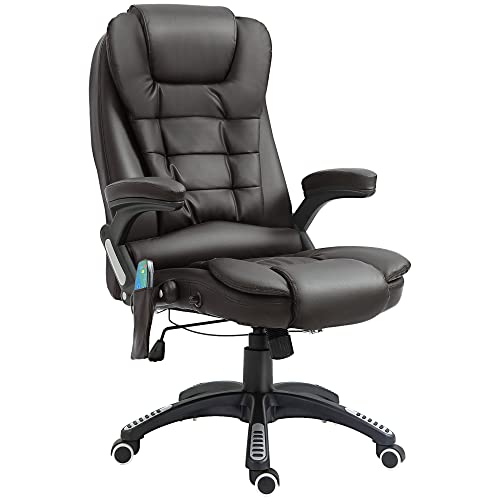 HOMCOM 6 Vibrating Massage Office Chair, 5 Modes High...
Feel Better After A Long Day: If you have issues with back pain from sitting all day, this executive office chair has a six-point vibration...
Lean Back And Relax: When you're ready for a break, lean back and enjoy the tilt function to ease lumbar pressure, which is like a rocking...
All Day Comfort: This computer chair has a high-back that provides neck, back and lower lumbar support that will keep you comfortable for...
Pros
This chair is remote controlled with 6 variations, thus does the entire job for you with a click of the button.
It is extremely durable and stable as it is made of PU leather and thus prevents staining and keeps it clean for a long time.
It provides great lumbar support with its double padding.
It is great for professional use as the PU leather surface and the chairs built can be used for professional scenarios.
It is a complete steal for its price.
Cons
The directions accorded were only pictures and were not sufficient to fix up the entire chair.
Due to its heavy structure, the wheels did not function at the best capacity.
---
Best Budget
The Mecor Heated Office Massage Chair High-Back PU Leather is one of the best-budget friendly massage chairs in the market. Apart from the price range, the product is also pretty great and is optimum for a great massage and relaxing purposes it is bought for. 
This chair has a PU leather body making the chair more durable and stain free. Along with that, it has a wireless remote, which has six different variations provided in it for effective massage in the back and the lumbar region.
Apart from being remote-controlled, the chair is also extremely safe as it also has an automatic power-off function; thus, it won't overheat when you forget to switch it off. Further, this chair offers a double soft padded design for maximum comfort during the massage and a heavy built, which can take up to 300 lbs. 
Mecor Heated Office Massage Chair High-Back PU Leather is Suitable for:
This chair is most suited for office and home settings. This chair's optimum use comes when anyone tired of working hard the entire day just needs to sit and relax in the chair by getting a nice warm massage. Thus this is the best product for the same as it can also be used in professional settings due to its make and design and is also light on the pocket.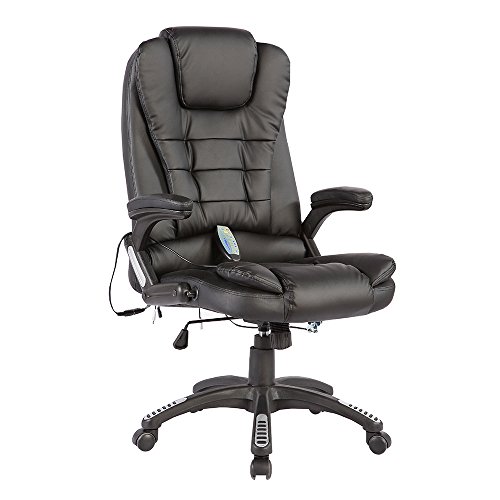 Massage High-Back PU Leather Computer Chair w/360...
★6-Point Multi-function Vibration Massage Office chair--Mecor heated office chair can massage upper back, lower back and thighs/lumbar....
★Comfortable Design For Your Relax--Comfortable soft PU/PVC leather upholstery with soft padding for superior comfort.Height adjustable...
★Easy & Convenience To Use--This tall and big computer chair features remote control,so you can adjust chair as you like at anytime!You...
Pros
This chair has an automatic switch-off system, which keeps the office and the user safe.
The 6-service remote control provides maximum utility while using the chair.
The chair is strong and durable and can support up to 300 lbs of weight.
The company provides 24-hour customer service with one year manufacturer's warranty, thus giving great after-sales services.
This product is available at a great price as compared to its competitors.
Cons
The heat is provided only on the lumbar part and not on the entirety of the chair.
The knobs near the thighs stick up.
Sometimes it gets too hot and needs to be shut off.
---
How Long Should I Sit in a Massage Chair?
It can be tempting to not get up from a great massage chair, but sitting in a massage chair for long can be bad for your health if overdone. Getting longer massage sessions in a massage chair is not practical as there aren't any health benefits to it.
It is recommended to use the massage chair in short intervals of about 15 to 20 minutes, twice a day, for best results. Two sessions are enough to relieve bodily tension and get full body relaxation. Overdoing or overusing even the best massage chair can make your muscles sore, just like the post-workout muscle sores. Prolonged usage can also put unnecessary stress on the nervous system and damage, bruise, or inflame your body muscles. 
Make sure to use the massage chair the right way to fully benefit from the massage sessions, mentally and healthwise.
How Often Should I Get a Massage?
This depends on a number of factors like your physical and mental condition and your budget. Generally, getting a great massage once a week or two weeks is ideal, but depending on your body and the reason for you to get the massage, this can vary from bi-weekly to once a month.
Get a massage done at least once a month, even if you don't feel the need for it. This is because if you leave your tissues and muscles to build up tension for a longer time, all the benefits that the massage brought you earlier will be for naught. To maintain the suppleness and flexibility of your body tissues, it's ideal to go for regular massages once a month at the minimum. 
But there are some scenarios where you can increase and decrease the time between two sessions. If you are experiencing chronic pain or your pain comes back every few days, then it's better to go for a massage once a week or at least bi-weekly. You can further adjust the period between two massage sessions based on your physical condition.
If you are feeling much better and your muscles are free of tension, maintain the regular massage schedules for at least once every 15 days. When it comes to massages, like any other medicine, treatment, or therapy, regularity is the key. Do not let it all build up; the more time you take between two sessions, the less effective, it will be.
But not all of us can afford a massage regularly. In that case, you can look up for some offers or contact a private practitioner as they generally charge less than franchises or other expensive spas. Just remember, regular sessions provide the best results, and always listen to your body; it never lies.
Why Do I Feel Weak After a Massage?
A massage stimulates your cells and muscles; it increases your blood flow and gets your lymph working to remove the impurities from your body. It relaxes your nerves and drops the level of stress hormones like cortisol and adrenaline, which keeps your brain alert. It helps your body to deeply relax on your levels while stimulating it at the same time.
When your body cells are so worked up, and your mind relaxed, it's natural to feel tired or sleepy. A massage does everything to your body that proper exercises do – relaxing muscles, strengthening tissues, improving circulation, and letting your body remove the various toxins. You might just be lying there for a massage, doing nothing, but this doesn't apply to your body.
Your body is actively working, responding to the stimulation it is receiving, and putting in the effort to clean itself and release the built-up tension. In such a case, it is only expected that you would feel weak or exhausted after a massage. This is a good thing and indicates that the process and therapy are indeed working.
You can generally sleep the tiredness away, but if you are feeling too weak and don't like it, you can try soaking in an Epsom Salt bath. It works wonders after a massage and acts as a catalyst in the removal of toxins from your body. Also, keeping yourself well hydrated will make you feel better too. And of course, eating well and properly!
Massage is one of the best forms of self-care, and there is a very good reason for that, as you already read. So don't worry about feeling weak right after getting a massage and take a soak in a comfortable bath before sleeping all the exhaustion and stress, both mental and physical, away.
Is it Worth it to Buy a Massage Chair?
Let's begin with a few scenarios where I think a massage chair is totally worth investing in:
If you deal with constant pain, aches, stress, and find yourself in a position where massages can help you, then getting a massage chair is a great option. 
If you do not have time to go to massage parlors or spas, then getting a massage chair might help you get regular massages.
If getting regular massage trips and spa appointments are burning a hole in your wallets, then getting a massage chair is a great economical option for you to have customizable massages.
If you like spa days and relaxing at home, then a massage chair is worth it.
These are just a few reasons to get a massage chair. Having one brings a relaxing spa experience straight to your home. A massage becomes accessible at any day or time – no need to make appointments or make time for a session.
Make sure what your goal, needs, and preferences are, though. A really good massage chair can cost anywhere between $1,000 and $10,000, and that kind of money isn't something people can throw away at things they are not going to use.
Unless you are 100% sure of wanting the best massage chair and the benefits you would reap, and also have the budget for it, I would suggest going for budget options. This list is focused on bringing good budget options for you to choose from. 
Personally, I think they are worth investing in. Make sure to be sure of your needs and preferences, and of course, your budget, before you make the purchase.
How Much Does a Good Massage Chair Cost?
The plain answer is that a good massage chair is an investment. The cost estimation will vary from time to time, but they are pretty much going to stay within the range that we are going to be talking about. So let me share the loose price ranges to give you an idea of how the massage chairs are priced and the quality you can get for the said price.
Below $1000
There are massage chairs that are made keeping budget-conscious people in mind, especially below $500. If you do not have a huge amount to spend on a massage chair, you can still get a decent one to boot. 
These massage chairs do offer some degrees of recline function. They will have vibration motors – they are the basics of massage chairs. Some nowadays do come with rollers and different tracks as well, like the ones discussed in this review. Companies have started including heat therapy in this range as well, which was not the case for budget chairs early on.
$1,001 to $5,000
This is low to a mid-end price point. Most massage chairs in this range come with the zero-gravity recline, but they don't heavily promote the zero-gravity usage. You get multiple motor options, different types of massages, and also customizable options, as well as all of the above.
$5,001 to $10,000
This higher-end of the mid-end range features some of the luxury hobbyist models. If you want to go for the best of the luxury models, these might lack some of the high tech functionality that belongs to the upper-tier models.
Above $10,000
This upper tier category features the best of the luxury category that provides exceptional massaging functionalities. Bodyfriend Lamborghini, Super Novo, and The Inada Sogno Dreamwave are some of the familiar products in the high-end category.
Conclusion
Having the best massage chair at home is great for people who like to relax or want to relax. It takes out the need to go to the spa again and again. All the chairs mentioned in this list will take care of all your stress and pressure points with customizable massage options and even pre-programmed options. Let me sum the options up for the best massage chair under $400 for you to help you make a decision.
A personal favorite and the best overall option of the bunch is the HomCom Heated Massage Recliner Chair. This chair is inclusive of ranges of height, weights, and different massage needs. It has pre-programmed massage modes, customizable options, targeted rollers, speed options, and intensity level options.
If you have lower back ache issues, then you can go for RelaxZen Deluxe Padded Leisure Massage Recliner Chair. This chair has a dedicated soothing heat treatment option for your lumbar area. It is also highly customizable, so you can easily target different pain points of your body.
If you want an option to blend in with your decor and enhance the surroundings as well, while doing its job, then Best Choice Electric Massage Recliner Chair is the best choice! HomCom High Back Adjustable Heated Executive Massage Chair is great for heat therapy and relaxing after a long tiring day. The cheapest of the bunch here is the Mecor Heated Office Massage Chair High-Back PU Leather. It is great for relaxation and also will go well with office or home furnishings.
No matter which option you choose, make sure to check if the chair has functions that will bring you the best experience. At the end of the day, relaxation and stress-relief is the main goal for me. It could be something else for you, so choose accordingly.