There may be tons of sources that you are reading to find your solution about how to sit in a gaming chair. It is not a very big deal. Some are making it complicated and make you frustrated. This article will be going to find the best solution to your problem.
Before you know about the best way to sit in a gaming chair, you need to know about gaming chair functions, posture, and benefits. If you want to get the full benefit of a gaming chair, you must know proper posture for gaming.
Know more about How to sit in a gaming chair
Are you a professional gamer? Then you know the value of a gaming chair. If you play video games for many hours, you should know how to sit in a gaming chair while playing games. It is imperative to set adjust your chair correctly to sit correctly in a gaming chair to avoid back pain and other health issues.
A cheap gaming chair can save some money for you, but it costs your health. A proper sitting on a perfect gaming chair increases your gaming durability and helps you relax.
Let's start the topic of how to adjust a gaming chair correctly.
Important: Chair size plays a vital role in the correct sitting posture.
How to sit in a gaming chair pro tips:
If You Sit In A Gaming Chair That Has The Right Size, Then:
Adjust the seat height; feet are flat on the ground while your knees form a 90 degrees angle.
Adjust the backrest and the lumbar support
Set the armrest height; your arms rest relaxed without lifting your shoulders.
Correctly adjust the desk height.
Properly adjust the gaming chair: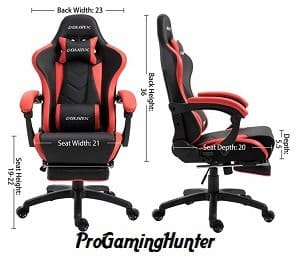 Set the chair height
If your gaming chair is in a high or low position, you can't sit for a long time. As a gamer, you are sitting on it for the whole day.
The wrong height of your chair can result in muscle tension and strain in the back. And also you can feel transience and back pain.
It usually depends on your hight and comfort, in which height you feel comfortable is the main thing. But there is a unique way to be comfortable.
Your leg must need to touch the floor. Its height depends on your lower leg height. Must make an angle higher than 90-degrees with your knee and lower leg. It is a proper height for a gamer to sit in a gaming chair.
Seat depth
Seat depth is significant for blood circulation. A gaming chair must need a tilt adjustment, but some give this function. You can slightly tilt seat pan forward with seat tilt adjustment.
Its distance between the backrest and front edge. Adjust it according to your thigh length.
There must be a gap of four fingers between the calf and seat edge for proper blood circulation. You should avoid the edge that must not press into the back of your calfskin. It's also needy for your spine.
Armrest adjust
Armrest provides comfort to your neck, wrist, shoulder, and upper back of your body. If your arms are not correctly adjusted, you may feel pain on your neck and shoulder. Make sure your Arm is little up than your desk.
The angle between your upper and lower Arm should be 90-degrees.
Some gaming chairs offer 3D or 4D armrests. It means it can move into three-dimension or four dimensions.
Properly adjustable armrest enhance your video gaming session.
Adjust lumbar support
Gaming chair manufacturers provide lumbar cushion to avoid back pain. You must adjust the lumbar cushion to feel comfortable on your lower back curves and better blood circulation.
It helps you to sit on a proper upright posture. Some chairs come with softback for making your gaming session comfortable.
Backrest and back tilt adjustment
The backrest is a vital part of a gaming chair. It provides comfort to your spine and lowers back. It helps you to play video games for the whole day—Manufacturers design backrest according to our spine's curvature.
A gaming chair comes with different recline from 90-180-degrees. The best position for your sitting is when your back and the backrest connect properly. It means you feel comfortable.
It gives your spine a better position and maintains your health issues. When you buy new or not used to with a gaming chair, you may feel uncomfortable. After some time you will be used to it.
Adjust desk with screen height
Better adjustment of all other parts like back, Arm, then you must adjust your desk height with a monitor screen. It will also help you to get strain on the neck, eye, and shoulder.
The screen light also is adjusted for your eye's comfort.
How to sit in a gaming chair: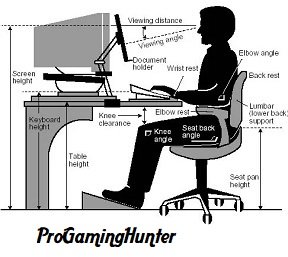 Gaming Chair Posture
Make sure your hips are straight as far as the back of the seat. Do not slouch, or do not shake your shoulders and neck, or spread, Your spine should not be bent.
With a gaming chair, you can relax your shoulders. Make your head straight and eyes straight with the screen.
Hence, you need to check your comfortable posture, in which you are suitable for a long time.
Positioning Monitor
The back shoulder of your body is getting more stress while playing video games and sitting in a chair for the whole day. If you want to give your shoulder less stress, then place the monitor in the proper position.
Place your monitor position in front of your face. Place it at a place where you don't get high or low your head.
Your monitor should be placed at 20 inches far from your eyes.
Gaming Chair Backrest Angle
Gaming chair backrest should be between 100-135-degrees recline. It is a proper posture for your unstoppable gaming session. Some gaming chair has built-in headrest and backrest pillow—also, lumbar support for better posture.
Feet on the floor
Your feet should be at the floor and bending your knees at 90 degrees angle. Make your whole body straight and one point. If your chair is too high, adjust it at your position or put your feet on the footrest.
Make sure your legs are straightly touching the floor or footrest.
Monitor position
Place your monitor 20 cm away from your body. Or it should be one Arm away. Your monitor should be placed with easy to move feature.
If you have a problem with your eyesight, then adjust it with your comfort.
Keyboard height
Find a better height and position for your keyboard yourself. It is up to you what is a better position for your comfortable gaming.
Elbows angle
While typing or playing games, your elbows rest close to your body and its 95 degrees angle. An adjustable keyboard tray helps you to keep this position and comfort to your eyes.
Take A Break: While working for a long time
While play games for a long time you should take a break for your health. It is a great way to maintain your health condition.
Get Up and Move Around
Go for a walk or move around in your room whatever you want. Just get up from your chair walk. It can make a huge difference in your productivity. It increases blood flow and makes you active and refreshes and gives you the energy to do more.
Productivity for a work period is 90 minutes. Every 90 minutes, you have to go for a walk and take a 30-minute break.
But in gaming, this might be different. It is better to take a break in every 30 minutes. But this will not be going to be an easy task for an addicted gamer. In 30 minutes, you might finish one round of a game.
So, we suggest you take a break as per your need. Don't sit with a lot of pressure on your back. You have to take a break in time.
Take Break With Physical activity
If you play games for more than 3 hours, you have to take at least 30 minutes to break or do physical activity.
It is more natural and effective than walking. It helps significant blood flow and prevents the negative effect of sitting for a long time.
Use a Foam Roller
It is the best massage for your muscle. It works very efficiently, places it in one place, and lies down on it, rolls your back on it.
Great for physical therapy, prevents muscle injury. Different sizes are available with polypropylene foam technology.
Do Yoga
Yoga is an exercise that can help from any type of muscle pain. Only once in a week can extend your period of gaming time. Thirty minutes will be great for this.
What to Look For in a Gaming Chair
Before buying a gaming chair, what you look for in it? A cheap and bad chair can't give you the benefits that you want from it. So before buying a chair, take a look at it.
Backrest Features
The main reason to buy a gaming chair is the backrest. It is making a difference from ordinary chairs to a gaming chair. Backrest supports your upper and lower back.
It also helps you to protect your spine. There are a lumbar support cushion and a built-in headrest pillow.
You can not slouch on this chair. And your lower back gets support from the cushion.
Adjustability
There are some different types of adjustability in a gaming chair. Like, Arm, back, cushion, adjustable height, etc. It is a required feature for your comfort gaming. You might be a small or taller gamer. With adjustability, you can use your chair as per your need.
Backrest adjustability helps you to sit and relax your back. Armrest helps your neck, shoulder, and height adjustment giving you the right position between your body and desk.
Seat Material
It would help if you saw the seat material for long time use. There is a warranty/guarantee with every product, but if the chair's material can't give you performance, it will total waste of money.
For me, I'm very much slouchy and adjust my position until I don't feel comfortable. The seat is not making a difference in your posture, but it indirectly plays a role.
If the seat's material is don't breathe well, by reclining on your backrest, you'll get sweaty.
There are different types of fabric/leather used in a gaming chair. Best from them is PU/PVC, NAPA, mesh leather, etc.
Related: Benefits of a gaming chair
How to sit in a gaming chair and adjust it – Final Thoughts
We have covered how to adjust gaming chairs, sit in a gaming chair, and, lastly, what to look on a gaming chair. I hope you got a solution to your problem here.
If you think there is any mistake here or have any queries, feel free to comment below.
Thanks