Best Overall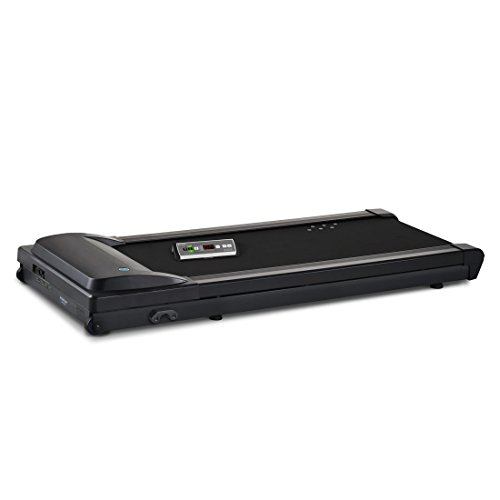 Best Value
Best Budget
With the increasing workload and responsibilities every day, our hectic schedule has made it difficult to take out some amount of time for our fitness regime. Sitting all day, working on your computer and chair can be not just unhealthy, but can make you prone to cardiovascular diseases and obesity. As most of our time is spent working, it is difficult to commit to spare some time, from the limited 24 hours of the day to our health.
Under desk treadmills are a new trend in the office world that is here to save us from permanently slipping into a sedentary lifestyle. This is an effective solution that can help us stay fit and active without worrying about dedicating time to our workout sessions. The under-desk treadmills are intended to be used while working, which is why they are designed to be compact and portable.
Best Under Desk Treadmills
Best Overall
LifeSpan is one of the leading names when it comes to under desk treadmills. This particular model, the LifeSpan TR1200-DT3, is an improved version of the well-known TR800-DT3 model. It features a wide walking belt (20" W x 50" L) and also a step-up height that is lower (4.6" H). There are many features that make this upgrade worth looking into.
It boasts a two-ply walking belt, which is more durable compared to other starter treadmills. Six compression shock absorbers support the walking belt to reduce the impact on your joints and keep you free from pains and sores and also protect your muscles against straining. This treadmill offers a longer running time of 6 hours.
Let's talk about the console, which is a selling feature for many.
Portable: The portable console is compact. Hence you can use it in your workspace without it causing interruptions. 
Modern Design: The modern design makes it easier for it to blend in with your workspace set up. 
Powerful Yet Quiet Motor: Not only that but its motor – a powerful 2.25 HP continuous-duty motor – also works quietly, your workout intensity and speed don't bother it much. This is one of the reasons why it is so popular. You don't want it to distract you or your colleagues. 
Controls: The console is used to start and stop your machine and also change and adjust the speed. The range you get is 0.4 to 4 mph.
LED Display: The console's LED display screen lets you see the progress of your workout session. You get the whole deal of information – your speed, the time elapsed,  distance traveled, step count, and calories burned.
Inbuilt Bluetooth Feature: This newly added feature allows you to sync your Active Trac app and your fitness progress, so it becomes easier to monitor your progress over time. This lets you track and tweak your fitness goals and efforts.
Two smart features that this product has is Intelli-Step and Intelli-Guard. Intelli-Step counts and keeps track of the number of steps you take every workout session. Intelli-Guard, on the other hand, senses when you step off of the walking belt. This allows the treadmill belt to pause when you leave it for anything.
It comes with a lifetime warranty on frame, 3 years warranty on the motor, 2 years warranty on electronic components, and a 1-year warranty on labor, which is a pretty good deal.
LifeSpan TR1200-DT3 Under Desk Treadmill is Suitable for:
This treadmill has a powerful motor that can run for long hours, that too, quietly. It records your steps and stops when you are off it, so this is perfect to be used in the office where you might have to leave your desk from time to time.
Sale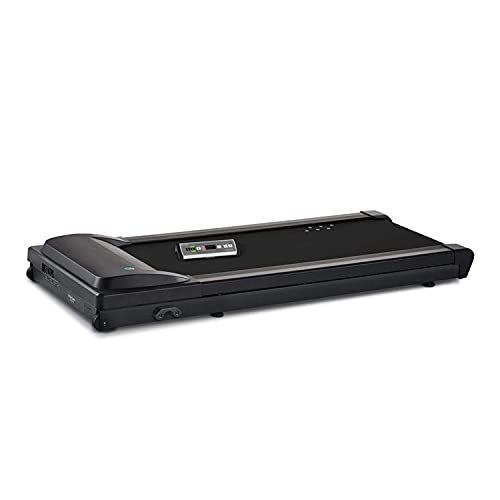 LifeSpan Fitness TR1200 Portable Walking Under Desk...
WHISPER-QUIET MOTOR: Enjoy a workout with this under-desk treadmill, fully assembled out of the box; Burn calories while being respectful of...
ADAPTABLE & PORTABLE: Compact 4.6 inch deck height for optimal ergonomic position and 2 wheels for portability; Adjust speed from 0.4 to 4...
CUSTOMIZABLE CONSOLE: LED display is movable for a custom desk set-up and keeps controls within arms reach, use options to set your...
Pros
It has a powerful yet quiet motor, which makes it ideal for workspaces.
It comes with an inbuilt bluetooth feature that lets you sync your exercise data with the Active Track app.
It has an inbuilt USB port.
It has 6 absorbers to deal with compression shocks that cushion the impact of the machine on your joints – knees and ankles.
Long-running time of 6 hours.
It has a wide speed range (0.4 – 4 mph).
It has smart features like Intelli-Step & Intelli-Guard.
There's a safety stop key to be used in emergencies.
It includes a wide user weight range because of its 350 lbs capacity.
Cons
The number of buttons you need to push can get annoying.
While the motor is quiet, the buttons are not. The beeping noise of a button being pressed can be disturbing to people working around as well as the person using it.
---
Best Overall Runner-Up
LifeSpan TR800-DT3 is one of the quietest, convenient, and reliable office treadmills. Even with its 2.0 HP continuous-duty motor, it works silently and won't be an issue in the office environment. 
LifeSpan under desks are known for paying attention to safety and adding features for it. The TR800-DT3 comes with a 2-ply walking belt like all the other LifeSpan under desks. It also absorbs impact at six points. This ensures healthy movement of your joints and muscles, protects them from impact, and avoids fatigue. 
Most offices don't have enough space, so the compact console (12.9" L x 3.25" W x 2" H) is a plus and saves you some space.
The red LED display provides you with your workout report.
You see speed, distance traveled, step count, the time elapsed, and calories burned during the workout.
There's also a USB port available on the console.
It has bluetooth connectivity that lets you sync Active Trac app, this records your performance, and you can view all the data – past and real-time – this helps you compare and see what's working and what isn't.
This being one of the shortest office treadmill desks makes it easier to install and also a huge space saver. It has a low step-up belt height of 3.75 inches.
Because of low step-up height, it can fit under your stand-up desk without compromising the ergonomic height setup.
It can work for three hours continuously.
It can give you a top speed of 4 mph.
It has an Intelli-Step feature that records your steps and Intelli-Guard feature that pauses the machine 20 seconds after you step off.
Lifespan under-desk treadmills arrive pre-assembled. You also get a lifetime warranty on frame, 3 years warranty on motor, and a 1-year warranty on parts and labor.
LifeSpan TR800-DT3 Under Desk Treadmill is Suitable for:
Because of its compact size, low step-up height, quiet motor, and the Intelli-Step and Intelli-Guard feature, LifeSpan TR800-DT3 is great for office environments as well as home environments.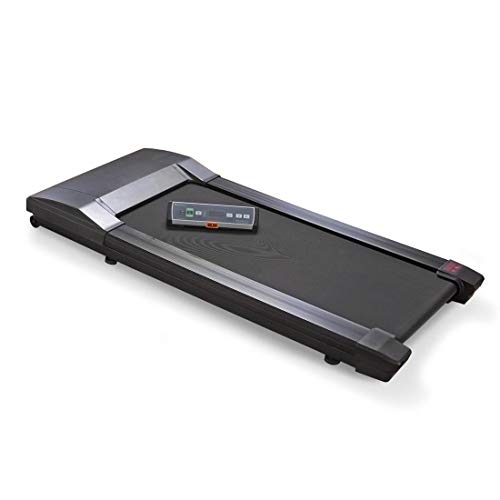 LifeSpan Fitness TR800 Portable Walking Under Desk...
WHISPER-QUIET MOTOR: Enjoy a workout with this under-desk treadmill, fully assembled out of the box; Burn calories while being respectful of...
ADAPTABLE & PORTABLE: Compact 4.6 inch deck height for optimal ergonomic position and 2 wheels for portability; Adjust speed from 0.4 to 4...
CUSTOMIZABLE CONSOLE: LED display is movable for a custom desk set-up and keeps controls within arms reach, use options to set your...
Pros
It comes with a 2.0 HP continuous motor that operates silently.
It has 6 compression shock absorbers that help reduce the impact of the machine on your knee joints.
It comes with an inbuilt bluetooth feature that lets you sync your exercise data with the Active Track app and lets you see it in the form of a chart.
It has an inbuilt USB charging port.
It has a wide speed range (0.4-4 mph).
It has smart features like Intelli-Step & Intelli-Guard.
It supports up to 300 lbs.
Cons
It can only run for 3 hours continuously.
It has a small walking track (18″ x 45″), which some users can have an issue with, especially given the weight range it supports.
---
Best Value
Compared to its main competitors, the Lifespan TR800 and TR1200 models, the Rebel 1000 sports a slim, compact appearance thanks to its slick design. It provides all the necessary features, that other standalone treadmill desks provide, for an amazingly affordable price. Being one of the lightest alternatives in the market is not positive in the treadmill market, but Rebel 1000 is certainly the first portable treadmill.
The treadmill uses 1.5 HP DC continuous drive motor that operates quietly with minimum need for interaction. The walking speed range of 0.5 – 2 mph makes the walking experience pleasant and comfortable. But you can always switch it up when you want to run.
The small console is easy to use and comes with a short and sweet, well-written documentation for the same. 
Your workout progress is displayed by logging your walking speed, distance covered, and time elapsed. 
The motor retains your stats for up to 20 minutes after you stop, and is reset after you restart the treadmill. 
However, unlike other treadmills, it doesn't automatically stop the motor when you step away from it.
The Rebel 1000 offers a sturdy and compact deck and frame that has a sleek stainless look. The well-cushioned walking area of 49.6" L x 18.1" W, helps with long workout sessions as it reduces the impact on your back and joints. You can walk several miles a day while not losing your work productivity, as the treadmill comes without any cap on your daily usage, which usually voids the warranty.
With maximum user weight support of 250 pounds, the lifespan and treadmill performance may hamper if the weight exceeds this limit. Rebel 1000 is covered with 20 years warranty on frame, 2 years warranty on motor and 1-year warranty on parts and labor.
RebelDesk Rebel 1000 Under Desk Treadmill is Suitable for:
The lightweight frame and deck and the silent motor make the Rebel 1000 suitable for lightweight users. It is a perfect option to be used at work, home, or while watching TV as it is designed to fit under standing desks of any size.
Pros
It provides all the necessary features at a lower price.
The 1.5 HP DC continuous drive motor provides quiet motor operation that doesn't produce any disturbance.
The deck is well-cushioned, which reduces the post-workout impact on your back, joints, and knee.
No limitation on daily usage hours.
The walking belt is well textured and provides a good grip to walk comfortably with any footwear.
Being a lightweight treadmill makes it portable.
It comes with a good warranty considering the low price point.
Cons
The side rails may crack after several months of use if used often by standing still for long periods when not walking/running.
It lacks energy-saving features like Intelli-Guard.
---
Best Value Runner-Up
The EGOFIT Walker is compact and smaller than most standard under desk treadmills but is just as powerful. This is the perfect companion that gets you to exercise while working in the office or at home. Its unique design distinguishes it from its competitors in the market.
The treadmill comes with a fixed incline, a feature much endeared by the consumers. And combined with the walking traction control system, it provides a much safer and steadier walking experience. 
It is strong enough to support max weight up to 254 pounds. The EGOFIT Walker offers very limited space with 29.5'' L x 19.7'' W x 6.7'' H dimensions and walking area of 28.74'' L x 15.75'' W. Weighing around 43 pounds increases its stability, given its very small size.
The 3 HP motor is quiet and smooth, perfect for office environments, and powerful enough for walking and jogging. 
The walking traction control system increases the lifespan of the motor. 
The motor provides speed in the range of 0.6 – 3 mph with 9 levels of adjustment.
The incline isn't adjustable but is high enough for your walking sessions to make a huge difference in terms of calories burnt. The small console monitor on the right side of the base displays all the relevant data of time, calories burnt, steps, and speed.
Thanks to its small size, the EGOFIT Walker can be stored anywhere. It comes in fully assembled with no serious maintenance required, as long as it is kept clean all the time.
EGOFIT Walking Treadmill is suitable for:
The walking space is very limited and makes it difficult for taller folks to read and type while walking on the treadmill. It is suitable for individuals of small to average height (below 6'). Apart from that, the EGOFIT Walker is compact and silent and is the perfect companion to have while working in office spaces.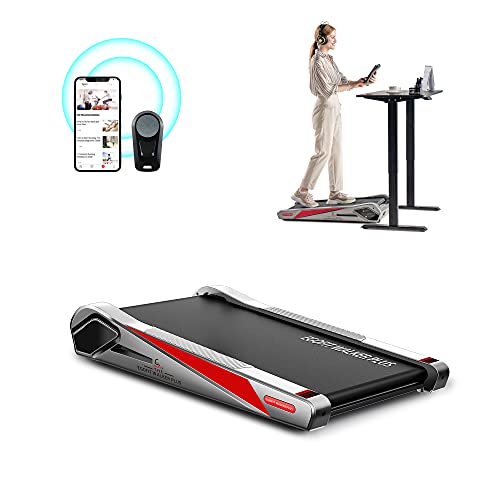 Egofit Walker Pro Small Under Desk Electric Treadmill...
SMALLEST and LIGHTEST designed under desk treadmill in the world! It comes fully assembled, space saving and invisible when not use. It is a...
APP control available(beside the remote controller) so you can start & off and adjust speed at will with your mobile. It is essential for...
WHISPER QUIET is a big feature about this portable treadmill. The sound of motor never exceeds 70DB, to ensure no disturbance breaks in your...
Pros
It comes with a fixed incline, good for working out.
It is sturdy, compact, and stable.
The walking traction control system provides a comfortable and safe workout experience.
Transport wheels are included.
It requires less power for operation.
It works out of the box with no assembly required.
Cons
The limited size makes it difficult for people of 5'8'' and above to work on the desk while working.
---
Best Budget
GoPlus is one of under desk treadmills that is programmable. You can program it to fit your needs and don't completely have to rely on the remote. Even if you don't have a remote, you can still use this treadmill for its purpose.
Even though it isn't completely dependent on a remote, having a remote is pretty essential because it makes the functioning of the treadmill desk better by making the operations more efficient.
One thing that might feel like an issue is that when you press stop, the machine completely stops instead of winding down slowly. This can feel like an issue to some because you don't get the momentum.
You have 12 programs that are available to choose from. You don't need that many, but it is good to have options. You can choose the one that fits perfectly in your fitness plan and goals. The speed range you get is 0.5 – 4 mph.
Although it works silently, changing functions or remote operations sound beeps so if you frequently change the settings, then it can get annoying. It starts with 5 beeps, and the changing speed is 1 beep.
It is 51.5" L x 23.5" W x 6" H and has a 17" wide belt. It comes with a LED console display screen. It displays elapsed time, speed, distance traveled, and the calories burned. It is designed with large clear numbers to be easily readable.
Goplus Under Desk Electric Treadmill is Suitable for:
Because of being lightweight and coming with wheels that make it easier to move around, this under desk treadmill is a great option for working from home. The 6 inches height also makes it easier to store away when not in use. The beeping sound it makes also is another reason to use it at home.
Goplus Under Desk Treadmill, Electric Treadmill Walking...
【Heavy-duty Construction & Widened Running Platform】Our slow-walking machine can withstand 220 pounds of weight due to its heavy-duty...
【Compact Size & Lightweight Design】The size of the walking treadmill is 51.5" x 23.5" x 6.5", and the compact size allows it to be...
【0.5 - 4 MPH Speed Levels & P01-P12 Programs】Available in 0.5 to 4 MPH Speed levels, this Goplus walking treadmill allow you to select...
Pros
You get a wide range for speed from 0.5 to 4 mph.
It is lightweight at 55.5 lbs.
The maximum weight capacity that this under desk treadmill can support is 220 lbs.
It has two front wheels for easy movement.
It comes with an LED screen that is user-friendly.
It isn't completely remote dependent.
It has 12 programs to choose from.
Cons
When you press stop with the remote, the machine immediately stops without wind-down. This can be a bit of an issue because there's no momentum to stop naturally.
The beeping sound when the machine starts up can be distracting.
---
Best Budget Runner-Up
Don't expect anything less from this ANCHEER Under Desk Treadmill at this price point, as the treadmill hardly feels any different as compared to the standard treadmills at your gyms. The smaller size of the treadmill will fit under any standing desk. Now you don't have to skip your workout, as you can walk and run while working.
This folding treadmill is built for performance in mind, with features such as remote control for changing your workouts and making speed adjustments on the fly. 
Bluetooth audio speakers will provide the extra bit of motivation while you work and workout. 
The 2.25 HP motor is powerful and whisper-silent that can reach up to 7 mph.
The 7 layered premium running belt, along with the shock reduction technology, helps reduce stress on your joints, back and knees, providing safe cushioning and preventing post-workout pains. 
You will get a great experience when running on the high-tech 40'' x 16'' belt.
The advanced multifunctional LCD console display can be unfolded anytime for use during your full workout sessions. The lack of internet connectivity isn't an issue as the Electric Treadmill will track all the necessary workout stats.
ANCHEER Under Desk Smart Electric Treadmill is designed to be portable so that it can be moved around according to the need of the hour. This 2 in 1 folding treadmill will save you a lot of space at home.
ANCHEER Under Desk Smart Electric Treadmill is Suitable for:
The compact size has a smaller footprint and yet provides a premium experience for both standard and under-desk use. The portable design makes the ANCHEER Under Desk Smart Electric Treadmill suitable for people with small houses having limited storage spaces.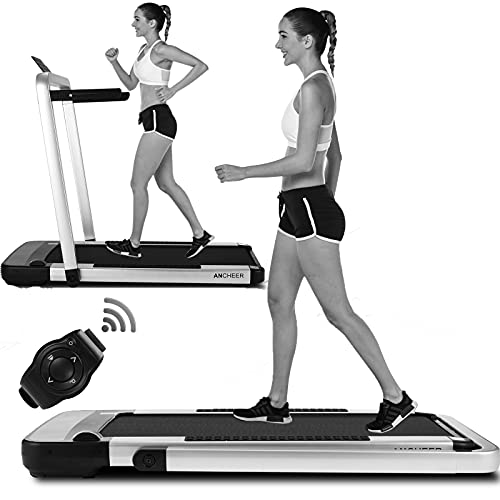 ANCHEER Folding Treadmill, 12 Preset Programs, Electric...
Innovative Electric Treadmill: Compared to ordinary treadmills, this 2-in-1 folding treadmill for home has Two sports modes. During the...
Ultra-quiet Motor: This ANCHEER Treadmill with 2.25HP motor,40x16"running belt surface with 0.6~7.5MPH adjustable speed. You can choose to...
Under Desk Electric Treadmill: Anyone who uses this treadmill can control it through Acrylic touch operation, Buttons, Mobile APP, and...
Pros
The treadmill is designed to be portable.
The construction is strong and stable, especially considering the price point.
It comes with a Remote Controller for changing workouts and speed on the go.
It comes with a surround sound bluetooth speaker.
The shock reduction system provides safe cushioning for your back, joints, and knees.
The 2.25 HP motor is powerful and silent.
It comes with an advanced LCD display that tracks all the necessary stats.
Cons
It doesn't come with an incline.
It doesn't feature any workout programs.
---
Under Desk Treadmill Buying Guide
Here are the features to keep in mind when buying an under desk treadmill:
1. Space
Space is one of the things to consider in the very beginning. If you are going to be using it in the office or even at home, make sure that you have sufficient space to fit one.
2. Weight Capacity
Check if the desk is sturdy enough to handle the weight of your office setup. You do not want to compromise on the workspace, especially if you are going to use it in the office where you do not have the option to move to another desk.
3. Noise
You do not want your exercise efforts to disrupt your work or that of those around you. Make sure that the machine motor operates silently.
4. Console
The console should be user friendly in its display of data so that a quick glance is enough to know what you want to know. You also want it to be of good quality so that changing the functions and interacting with it is as smooth as possible.
5. Safety
Make sure that the machine has safety features like shock absorbers and an emergency stop button.
6. Warranty
Check for the terms and conditions regarding the warranty and service. Different parts are covered for different periods, so make sure that you know what will be covered for how long.
Do Treadmill Desks Really Work?
With fast lives, no one seems to have time for exercising anymore. People keep coming up with creative solutions to include exercising in day-to-day activities. One such solution is adding a treadmill to your desk. 
People spend most of their time at their offices, so this makes sense. Treadmill desks are a great way to work out while you complete your tasks. You can use it when you are on a call or are answering emails and make the most out of mundane tasks.
We have discussed under desk treadmills here. It is a better solution for people who already have a desk and don't want to shell out money for a treadmill base and standing desk combination. With standing desks gaining popularity, the treadmill desks are becoming even more popular.
It is also because they do work. It is a great way to burn extra calories and, at the same time, avoid back and neck pain from sitting for prolonged periods. Exercising is also known to improve mood, so that carries on to your work too. Being alert also contributes to increased productivity. This is a win-win for many busy people.
How Do I Put a Desk on My Treadmill?
Investing in a treadmill desk might not be a priority for many, especially if you are on a budget. Even the budget options can easily cost you more than $500. If you already have a treadmill, then you can go about making your own.
When looking at DIY treadmill desk options, I came across a lot of them, but most of them needed drilling holes in the treadmill. Using power tools isn't exactly my idea of an easy DIY. On my hunt for finding the easiest way to achieve what I set out to, I found this DIY Treadmill Desk in 4 steps article from Spin Sucks, which turned out to be one of the easiest and actually DIY-able options out there.
Here's what you need to do:
Begin with setting up your treadmill. If you don't have one, you can buy a used one to make it even cheaper.
Step 1: 
Wrap old sheets or towels around the treadmill arms for traction and cushioning your desk. It also stops the transmission of vibration from the treadmill, reaching your desk.
Secure the sheets with duct tape or hot glue the edges of the sheets together.
Step 2:
Add another sheet on top and across both the sheet wrapped treadmill arms.
Make sure to secure the sheet. This adds stability to your desk set up and will also even out both the sides.
Step 3:
Add a wooden plank to act as your desk surface. You can use an old bookcase shelf, finished plywood, or anything flat that can support your laptop.
Make sure it reaches the length between both the arms and fits in the sheet snugly.
Note: Your laptop and other things are going to rest on it, so press down firmly and make sure it is secured.
Step 4:
Add your office setup.
Organize your computer, notebooks, pen holder, and a water bottle – or whatever you want.
That's it! This was the easiest DIY I could find, which is actually easy and doesn't involve math and spending more money and effort than actually buying one.
Frequently Asked Questions
Can you lose weight with a treadmill desk?
Yes, studies have proven that treadmill desks do help with weight loss. But, keep in mind that the results won't be too drastic or earth shattering. Walking too fast on a treadmill desk can alter and affect productivity, so you need to balance the speed in a way that keeps you active but doesn't impact your productivity as well.
Can you run on an under desk treadmill?
If your treadmill desk doesn't have unnecessary bars around it and has enough clearance space, it should be more than enough to stack it under the desk as well. You just need to be wary of the design and the functions of the desk.
Do under desk treadmills get you fit?
Yes, a few conducted studies found that the under desk treadmills helped the employees shed excess calories, thereby helping improve the overall fitness of the individual in a due course of time. It is a time-consuming process though, especially if you are overweight or obese and are trying to lose weight.
How Much Does a Treadmill Desk Cost?
Treadmill desks usually cost anywhere from $500 to $1300 dollars on average. There are treadmill desks that are even more expensive but, I am talking about the average good quality options.
I have tried to include most of the budget options. The best thing about buying online is that you can always cash-in discounts. I would suggest waiting for the sale season to snag them up at huge discounts.
Conclusion
It doesn't matter which one of these you choose, under desk treadmills are here to help you if you don't find enough time to exercise daily. You will have the opportunity to walk or jog while you work and worry only about your tasks at hand. 
LifeSpan TR1200-DT3 is the best under desk treadmill overall. But other options are great in their categories as well. You can see which one of these fits better in your requirement based on the "suitable for" section under each under desk treadmill review.
If you worry about convincing your boss, don't worry as these treadmills are designed for office environments and under-desk use. You will stay active, healthy while being productive at work.