There is an abundance of gaming chairs available in the market. Some are meant for extended use, some are budget-friendly options and some are known for their durability. Ficmax is a leading manufacturer of gaming and office chairs and their latest model is one I am going to talk about today.
Compared to its predecessor, the updated model is backed with some of the latest features, enhanced ergonomic design elements, and a high-quality build that makes it worth every penny. This gaming chair is a premium quality product compared to several of its competitors in the market.
The Ficmax Gaming Chair more or less offers everything that you likely need for a comfortable gaming experience. Let me walk you through all the features and specifications individually for a better understanding.
Table of Contents
Specifications and Key Features of Ficmax Gaming Chair
In-depth Review of Ficmax Gaming Chair
Specifications and Key Features of Ficmax Gaming Chair
Following are the basic specifications of the Ficmax Gaming Chair that you need to know of:
Cover Type: PU Leather
Maximum weight capacity: 300lbs
Maximum recline – 180 degrees
Dimensions: 33.8″(W) x 11.8″(D) x 25.5″(H)
Massage: USB electric
Color: Available in 3 different colors
Material: Alloy frame construction with high-density foam and ABS plastic
Swivel: 360 degrees
Armrests: 2
Base: 5-star base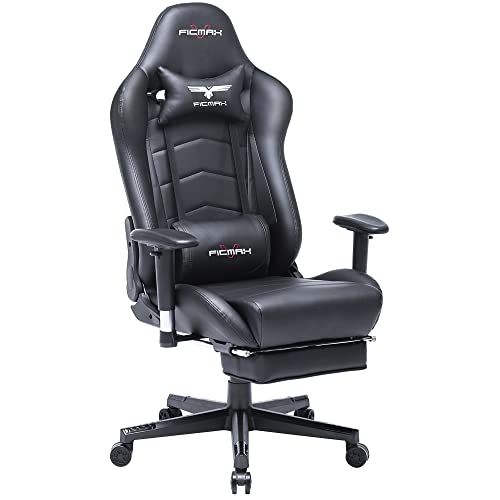 Ficmax Gaming Chair with Footrest Ergonomic PU Leather...
✔Fits your style: Tilt, rock or swivel, adjust at your own pleasure.
✔Premium Quality Material: Dirt & fade resistant PU leather & 4.8-inch thick high-density memory foam.
✔Built to last: Complete metal framework & Heavy duty wheelbase. Class 4 hydraulic piston (Max capacity: 350 LB).
In-depth Review of Ficmax Gaming Chair
With the basic specifications of the chair out of the way, the next thing we need to focus on is the individual features and review of the product. I have ticked off all the important features that make this a high-quality chair and thought to list them all out for you to read through and make your own decision of whether or not the Ficmax gaming chair is worth the money you spend.
1. Host of Attractive Features
The first and most important factor that makes this gaming computer chair a winner is the features. Not just a few common ones, it comes with a host of options you normally wouldn't think of. It has a sleek and modern racing-style design that makes it fit any interiors you have going.
The exterior of the chair is covered in PU leather, giving it a durable and long-lasting finish. It also features a pull-out footrest, which comes in handy when you are tired and want to stretch and rest your foot around. Not only does it cater to hardcore gamers, but the ergonomic design of the chair is also ideal for office settings too.
It has a separate headrest pillow with lumbar support that ensures a comfortable sitting design for extended periods. It is ideal for massaging lumbar areas after long hours on the chair. Not only does it include ultimate levels of comfort, but it also packs in a separate USB connection to massage the lumbar area.
2. Classy and Modern Design
Aside from the host of beautiful features, the Ficmax chair manages to stand strong with its design as well. It has a classy yet modern design that makes it stand out from the rest of the competitors in the market. The first look at the chair is enough to steal your breath away, especially with the sleek and modern design that it features.
It comes with a contoured backrest with extra individual pillows to support the next and the lumbar region enables you to experience maximum comfort. Not just that, the high-density foam in the gaming chair is also a winning factor especially when you are spending hours playing video games or getting work done.
The chair reclines up to 180-degrees, which is perfect for you to stretch out your back muscles and just have a comfortable time on the chair. It has a retractable footrest too, which is a further bonus. In short, the overall design and construction of the chair are built to last.
3. Comfort
With an office chair or gaming chair, the unmistakable factor that everyone looks for is comfort. You can't buy a gaming chair that feels stiff and tough on your lower back and the spine. The ficmax gaming chair takes care of that for you, especially because of the high-density foam and the reclining design.
It features a sturdy build and good cushioning that makes it suitable for you to spend hours on it without any complaints. Even for the taller users who have a hard time finding an ideal chair for themselves, the ficmax gaming chair does the job pretty well.
It can easily accommodate people up to 300lbs, making them ideal for anyone around. The removable lumbar support pillows are a further addition to the comfort. The overall heavy-duty construction of the chair ensures that you feel stable in your posture and don't have to worry about straining your lower back and spine now and then.
4. Value for Money
Not every gaming chair in the market is available for an affordable price range but Ficmax takes care of that for you. With the kind of features and functions you get in the chair, you wouldn't care to pay what you pay for the chair, which is great.
Aside from the standard ergonomic design and the gaming chair features, the chair also accommodates a speaker and USB powered massage option, which is pretty amazing and unique at this price. So, every penny spent on this product is a worthy investment that pays off well for your health.
For all the handy features, the Ficmax gaming chair is pretty much one of the best options that you can snatch.
5. Reclining Function
Although I have touched on this subject a bit in the "Comfort" section, the reclining function deserved a separate section in this gaming chair review. Aside from the 180-degree reclining feature, the chair also has a retractable footrest that aligns to the contours of the chair, enabling you to have a comfortable sitting experience for extended periods.
It has a sturdy backrest, which can support your stature, even when you are laying down and leaning your entire body weight on the chair. The reclining function is easy to achieve, with the single pull lever on the side.
6. Accessory Features and Functions
Not just for gaming and office needs, this is a massage chair too. This might come off as a surprise but it does feature a USB powered massage function that you can switch on for maximum comfort. The electric massager is perfect when you want to relax and get rid of the tension from your muscles.
Aside from these functions, the reliability of Ficmax is another reason why it is worth the investment. The company ensures optimal customer service with a lifetime warranty that ensures to take care of quality discrepancies pretty well. The company is hence known for its loyalty towards its customer base.
Conclusion
Before wrapping up the article, I would suggest that you consider reading through all the features and functions we have mentioned above. You can rely on this product with confidence, all thanks to its quality chairs, seamless delivery, and modern design. The brand invests its time into making the chairs stand out more than a piece of furniture and the functionalities of the chair give that off. We hope this Ficmax Gaming Chair review gives you all the insights you needed to know before finalizing the purchase.