DXRacer gaming chair is a top-level gaming chair in the chair industry. They made the best gaming chair for dedicated gamers. A Video game player knows the importance of a gaming chair. Some times they face a problem of how to clean DXRacer chair.
Dedicated gamers play video games for a long time. They may face health problems like back pain, shoulder pain, muscle pain, etc. DXRacer gaming chair is a high-quality gaming chair with lots of features, Adjustable back, armrest, footrest, back support recline, ergonomic design, lumbar support, etc.
Using cheap products can cause you a double loss in money. So be smart and buy the best one that lasts long.
Maybe every chair comes with cleaning instruction, So make sure to check that user manual about how to clean a gaming chair. Correctly clean a gaming chair is not an easy task. If you wash it with the wrong element, your chair may ruin it. DXRacer gaming chair comes with different types of fabrics.
How to clean DXRacer chair
Here we discuss the full step by step process on how to clean the DXRacer chair. So let's start.
Know Your upholstery
It's all about the fabric, from leather, PU Leather, PVC Leather, Fabric, Mesh, faux plastic! As a result, the care involved and even physical placement is affected. Any fabric may make your chair. Each of the fabric cleaning processes is a little different. Natural materials will fade badly in prolonged sunlight and are highly absorbent. Synthetics are non-absorbent and easy to clean. Microfiber also cleans-up easily and offers no interest scratch-happy cats. Real leather is classic, but stains easily. Take the time to understand the materials used on your chair.
PU/PVC Leather DXRacer chair cleaning process
PU leather is split leather that laminated with a polyurethane coating. It also stands for "Polyurethane-coated," "Bicast leather," and "Bycast leather," leather.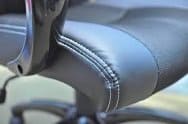 PU/PVC leather is cheaper and not durable, ripping out with long and rough use. Polyurethane coating ensures the stability of this leather. PVC leather is polyvinyl chloride, which is an original type of faux leather. It is durable and easy to maintain.
The cleaning process of this PU/PVC leather is straightforward. Take a microfiber cloth and wipe the whole chair.
Then go with a mixture of water and soap/detergent. Take a cloth and dipped in this water, and clean the dirt and debris from the chair.
Don't wipe cloth too roughly. Hence it will damage the surface of the chair.
Fabrics/ mesh DXRacer chair cleaning process
For this type of upholstery, you need a vacuum cleaner because this material can absorb the water/detergent mixture or any other liquid cleaner.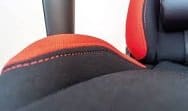 Use a small nozzle vacuum cleaner that can go inside every fold of the chair.
If there are stains in your fabric or mesh chair, then Treat the stain as soon as possible. Then use some cold water to rid out.
Make a solution with water, dish soap, baking soda, vinegar or detergent, then use undiluted hydrogen peroxide for set-in stain.
It will help you to rid of the stain of your fabric or mesh.
Clean other accessories
On this point, make sure you do not forget about other parts of your gaming chair. You can clean all the different elements like armrest, frame, base, wheels, springs of gas lift with a mixture of soap and water.
After rubbing these parts with the mixture, then dry them with a dry cloth.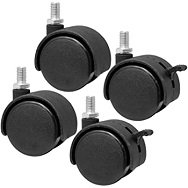 There will be so much dirt in the casters of your chair. So at first vacuum them, then clean with a cloth and wipe with alcohol.
It is the most straightforward process to clean the DXRacer gaming chair.
Step by step process of cleaning DXRacer chair
Know Your upholstery
Take a microfiber cloth
wipe the whole chair
a mixture of water and soap/detergent
Don't wipe cloth too roughly.
A list of items needs to clean gaming chairs
Cloth (2pc)
Vacuum cleaner
Water
Water sprayer
Soap/detergent
Hydrogen peroxide (if needed)
Tips for your DXRacer chair
Keep your cats and dogs away from your chair.
Keep the chair away from the window as direct sunlight.
Staying in fresh and prevent getting sweat stains
Skin conditioners can help prevent it from cracking.
Wipe immediately to minimize staining
Careful with the gas spring
Prevent Damage
Prevent from damage is one of the most important things for your gaming chair. Some of these materials can quickly permeate by cigarette smoke and other offensive odors. Keep your chair from smoky areas and away from kitchens may prove essential for long-term care.
Many synthetic materials are best for easy cleanup, rarely requiring more than a damp rag or diaper wipe to restore the surface. These materials are ideal for 'starter' furniture when young children, perpetually snacking spouses and housemates, and poorly trained pets are part of the household.
Treat Stains Quickly
Any stain that (penetrates) upholstery will become riskier to remove if it stays for a long time. Follow the instructions for letting it set. Sometimes a soft-bristled brush is needed to prevent the stain from the surface. If you use the wrong spot remover, it can harm your upholstery, so always make sure to read the instructions.
Vacuum Regularly
Vacuum the DXRacer chair surface areas periodically to remove dust and dirt left on most surfaces, dirt can become ground in overtime and more challenging to remove. Virtually every vacuum comes with a standard upholstery attachment.
Consider Professional Care
Professional care is an excellent way to keep upholstery looking its best, especially when heavy stains are involved.
Now how to clean DXRacer chair upholstery is about making a habit of dealing with small problems while they are still low. Otherwise, the small hole gets more prominent, and a stain becomes almost impossible to remove. So pay attention!
Final thoughts
We have just explained how to clean the DXRacer chair. You are now able to clean your DXRacer chair yourself. Hence, follow the steps and make sure to read tips carefully and keep in mind what is not suitable for your gaming chair.
Feel free to comment on our post for any suggestions and queries.
Thanks