Like all other furniture, office chairs require regular cleaning unless you want them to become home to germs and bacteria. We know it sounds gross, but you just need standard cleaning supplies and some basic instructions to keep your chair as good as new.
Office chairs have nooks and crannies that collect dirt. It's quite convenient for dust, hair, or food crumbs to build their home in the joints and on the wheels.
High-end chairs such as Heman Miller models come with cleaning guidelines. If those are available to you, rely on them first. Otherwise, read on.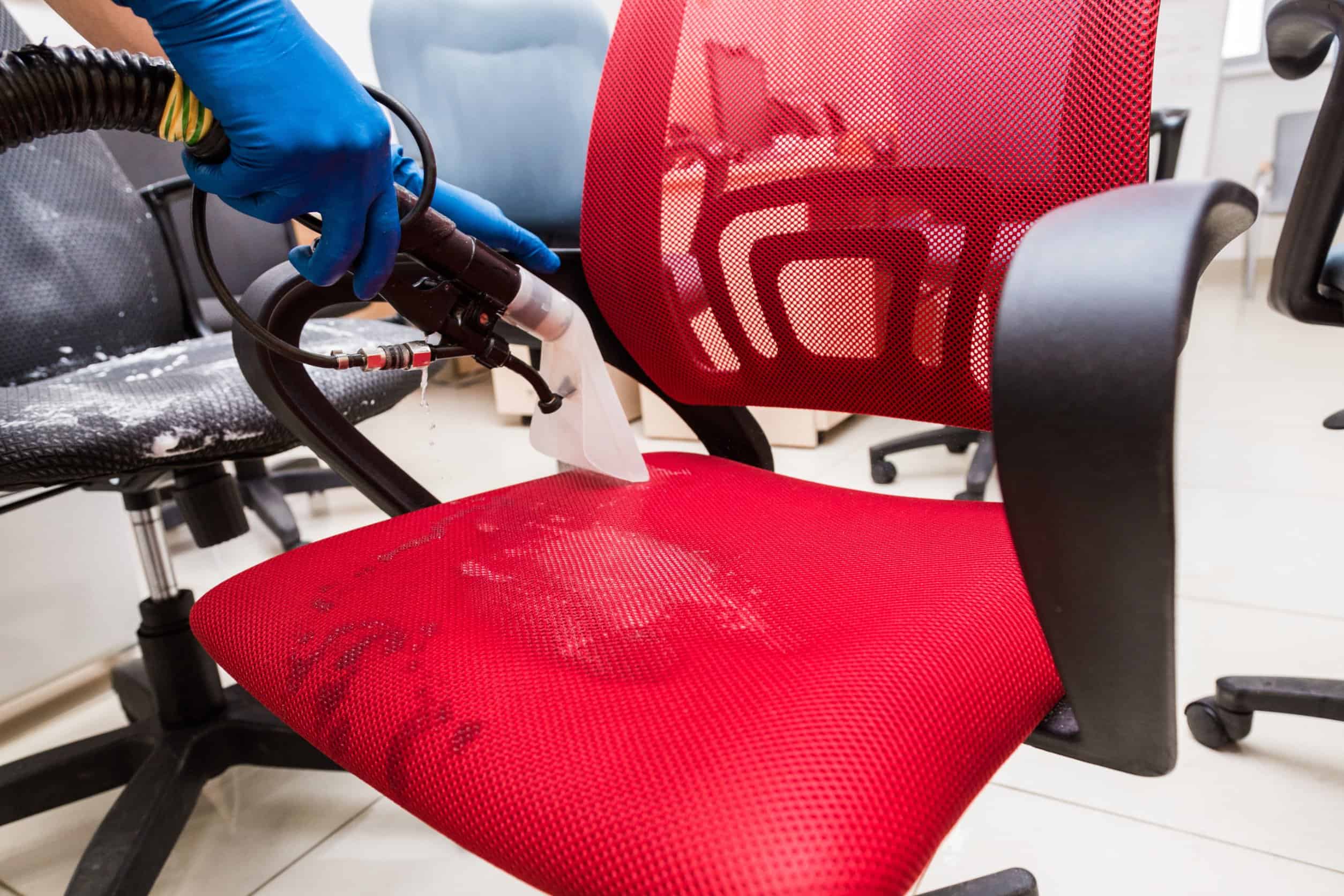 What Do You Need?
You can find cleaning instructions on the bottom side of the chair. Look for a tag on the bottom of your seat with the cleaning code: W/S, S, W, or X.
"W" stands for water-friendly, meaning that water-based solutions are perfectly safe to use on these pieces.
"S" stands for dry-cleaning solvents only. 
"S/W" means that both types of solutions are okay, but you should still patch test to make sure.
"X" is a sign you will rarely see, as it doesn't often appear. It stands for vacuum-cleaning-friendly only.
Things are much more straightforward for chairs made of polyurethane, leather, or vinyl. You can use a vacuum cleaner. A small hand-held one or a regular vacuum cleaner with a furniture attachment works.
You will also need dishwashing soap and a spraying bottle to clean the surfaces. For deeper cleaning and disinfection, use alcohol or vinegar.
And of course: don't forget your clothes! Microfiber is the best, but an old cotton t-shirt should do in a pinch.
Finally, if you want to do some efficient deep cleaning more often, a portable upholstery cleaner might be a good option. Check out BISSELL Little Green Multi-Purpose Portable Carpet and... or Hoover PowerDash GO Pet+ Portable Spot Cleaner,....
How to Clean an Office Chair?
It would be best to clean your office chair once a week, but even monthly is better than never, and even once beats never. 
If there are no dried stains, cleaning a chair is very easy. If there is, it will take some time to get them out. Cleaning those daily spills right away will make your life easier in the long run.
Otherwise, regular cleaning shouldn't last longer than 20 minutes. If you're using water-based solutions, you should wait until the chair dries completely.
Let's go through the steps of office chair cleaning.
1. Vacuum Cleaning and Dust Removal
The first step is to remove dust from all parts of the chair: the handle, the plastic base, and the wheels, as well as from the seat. If some angles are inaccessible to the vacuum cleaner, try reaching them with a piece of cloth or a duster.
2. Apply Dishwasher Soap and Water Mixture (or the Dry Cleaning Solution)
If you have a spray bottle, pour some lukewarm water inside and add a dash of dishwashing detergent. You can also use a plain bottle if you don't have a spraying one.
Put the solution on the cloth and clean all the chair's surfaces. Genuine and faux leather are usually water-solution friendly, while materials that are not water-proof are better cleaned with the dry-cleaning product.
As you wipe, make sure to be gentle. The surface mustn't get soaked because it can easily be damaged.
3. Rinsing and Drying
Of course, you don't want to leave your chair all soaped up. Take a different cloth, put some water on it and rinse the soap off the chair.
You may need to do this a few times before all of the soap is gone from the chair.
The chair upholstery should be left to air-dry, but if you're in a rush, you can always use the hairdryer on cool mode.
4. Persistent Stains: How to Clean Stains on Office Chairs?
Dishwashing soap may not be effective for all types of stains, especially those with a long history. If you didn't succeed at removing the stains in the previous step, try an alcohol-based solution. But first, test it on a small part of the chair to see if it removes color or harms the fabric.
If everything is fine, rub the alcohol gently on the stain, and wipe it with a wet cloth. Leave to dry.
If it doesn't help, try an upholstery cleaner. These deep-cleaning products are the most efficient agents for removing stubborn, deep stains.
Finally, you can always reach out to a professional cleaning service, like the local dry cleaners.
How to Clean Office Chair Arms Wheels and Legs?
Very often, we neglect cleaning the legs and the wheels of the chair, but they can get quite dirty, as they collect all kinds of debris from the floor for a very long time. You will need to flip it first upside down to remove the wheels.
Read our guide on how to remove hair from office chair wheels, which also applies to removing almost any kind of dirt from them. Of course, don't forget to wash them with water and soap afterward.
As for the arms and legs, it is usually sufficient to wipe them with the same dish washer-water solution, rinse, and leave to dry.
Once the wheels are dry, you can put them back into place.
Conclusion
Like every other piece of furniture, office chairs need regular cleaning and maintenance.
You can dust and vacuum clean the chair and use a cleaning solution to get rid of the stains.