Statistics suggest that one-half of all working Americans struggle with back pain and 80% of every American will suffer from chronic or acute back pain at one point in their life. Goes to make you think that our lifestyle influences our overall physical health. In a world where the majority of the people are working desk jobs and have to sit for 8-10 hours in front of a computer, complaining about back pain is pretty normal.
However, there are several recliners for back pain that work wonders. Not only do they help relieve the constant strain and stiffness in the back muscles, but they also help alleviate the pain. If you have been looking for a good option to purchase, there are a few I have sorted out in this article.
Here, I have sorted out a list of the best recliners for back pain that you can consider purchasing in the future.
Table of Contents
Best Recliner for Back Pain
Buying Guide for Reclining Chair for Back Pain
Best Recliner for Back Pain
Best Overall
Aside from the expensive price point of this recliner, it is an investment you wouldn't regret making. Not only is it the best rocker recliner for back pain, but it also helps reduce the consistent strain on the lower back muscles after sitting around for extended hours.
The combination of the S-track and L-track design of the recliner helps you experience a relief down the back and reduces the risks of pain around the spine, gut, and hamstrings. It is also ideal for patients struggling with sciatica and needs immediate relief from the pain they are experiencing.
Although it does have a large structure, the Kahuna massage recliner still manages to blend in with the interiors of your home. All you need to ensure is to manage around 3″ space from the wall to enable a smoother recline for added lumbar support.
It has a specific zero gravity seat place, which enables you to relax your entire body and let your entire body relax on the roller mechanism of the recliner. It allows you to experience optimal massaging of the back to reduce lower back pain and enable optimal back support.
The airbag knead is another unique and amazing feature you get in this recliner. The air massage option with this helps focus on the lower back and reduce the complaints of stiffness that you likely often complain about.
It has an exclusive warmth treatment, which is another factor that relieves any kind of swelling of the muscles and relaxes you. It targets the entire back portion, including the back of your thighs and calves to ensure a whole-body massage for faster relief.
Kahuna Full Body Massage Recliner LM6800 is Suitable for:
If you are looking for the best recliners for back pain that takes care of your entire back portion's massage, including the spine, thighs, calves, and lower back, this recliner is the one.
Kahuna Massage Chair LM-6800 (Brown)
Arm Airbag has new design, 6 Auto programs, timer button up to 30 minutes, Double layer shoulder airbags - Extra foot padding and remote...
L-Track massage system, 3 stages of Zero Gravity, Smart body scan technology scans your body to detect your body size for individual custom...
Best warranty service for online massage chair company – Easy to register warranty and request service. Kahuna LM-6800 gives limited...
Pros
Specific L and S-track design for back pain and sciatica
Has additional heat treatment
Adjustable settings
---
Best Overall Runner Up
For the users looking for an all in one option with critical massage settings and a well-padded seat and backrest, the Mecor Massage Recliner Chair is the best pick. Not only is it one of the best recliners for back pain, but it is also perfect for relaxing after a hard day at work.
Its functions aren't limited to just reclining or rocking, it works well as a heated massage chair as well. It features a 360-degree swivel and 160-degree recline that is enough to stretch out your lower back and get the necessary back pain relief and support that you need after a hard day's work.
It is integrated with an 8-heat point massage, a heating system along with different massage modes that allow you to get lumbar support and experience the maximum relief for the strain on your back muscles. It also works around the thighs and calves.
The 360-degree ergonomic lounge swivel design allows you to rotate the chair as per your liking without any damage. The 160-degree recline in this rocker recliner is perfect for individuals who have had a recent surgery or consistently complain about back problems.
One of the reasons why it is touted as the best reclining chair for back pain relief is because of the sturdy construction. The exterior of the chair is designed with 100% soft and breathable bonded leather with extra thick padding around the arms and the backrest for added support.
As for the frame of this recliner chair, it is made with high-quality wood that is comfortable enough for you to spend hours chilling on. The product does come with an instruction manual for the installation process that you can follow along.
Mecor Massage Recliner Chair is Suitable for:
This is the best recliner for those who want an all-in-one solution. It is a massager, recliner, rocker, and a leisure recliner chair, all in one.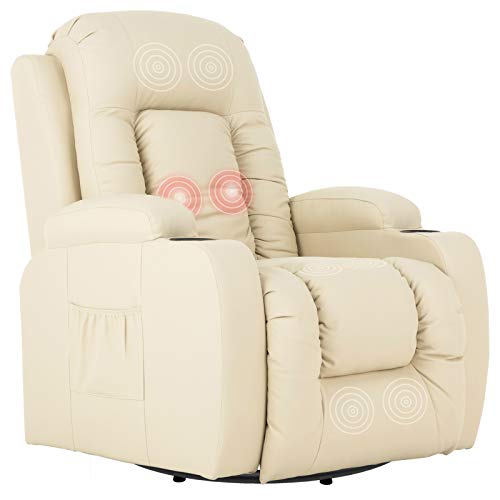 Mecor Massage Recliner Chair PU Leather Rocker with...
Multifunctional Sofa Chair-The recliner designed with reclining, rocking, massage, heated and swiveling features.(360°swivel and...
Massage Recliner Chair with Heat-8 point massage,a heating system and 5 massage modes for selection ,having a full body massage to relax...
360 Degree Swivel Ergonomic Lounge -360 degree swivel,the chair can be rotated in a full circle;160 degree reclining for optimal comfort...
Pros
Ideal neck and lumbar support
Comfortable extra padded seating and armrest
Ergonomic design with 8-point massage
---
Best Value
The CANMOV Breathable Recliner Chair is the best option if you are particularly on the lookout for a leather recliner chair for back pain. Not only does it come with a reasonable price point, but it is also one of the best options for lower back support and comfortable seating.
It has a "humanization design", which means that it has padding around the backrest and the head, allowing you to have a more comfortable experience while relaxing on the recliner. Even the reclining mechanism of the chair is pretty smooth, allowing you to get it done in a second.
This reclining chair does have manual functions which means that you will have to pull out the lever to recline the chair and then pull out the footrest accordingly. If you want to pull back the footrest, all you have to do is recline forward and then use your heels to press against the footrest.
The overall construction of the chair is very durable and sturdy. The exterior is made with soft and breathable PU leather stuffed with high-density foam inside for better comfort. It is backed with the laminated veneer lumber (LVL) system, which is unique.
Aside from all the basic and superior features of this recliner chair, you also get quality assurance and reliability of the material, which means that you wouldn't have to worry about after-sales service. It is backed with a 1-year warranty on the product.
CANMOV Breathable Recliner Chair is Suitable for:
This particular recliner is ideal for users who want optimal support for their lower back but want a leather recliner with premium features and functions.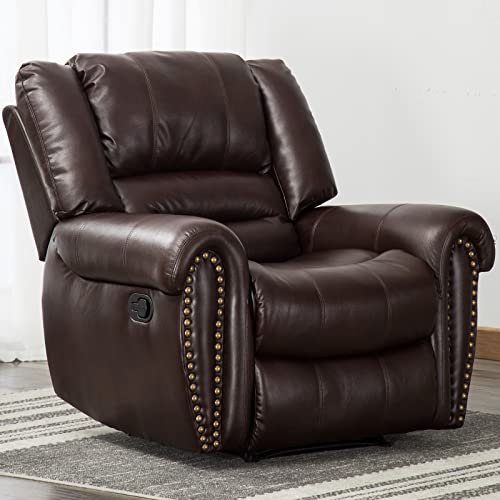 CANMOV Leather Recliner Chair, Classic and Traditional...
✿Overall Dimensions: Kindly please confirm the size before buying. Measure 40.5"W x 39"D x 37"H, Expanded Length – 65", Seat Dimensions...
✿Breathable Leather Recliner: As the use of high-quality faux leather for upholstery material, caring for the chair is quite easy. With...
✿Humanization Design: Recliner with two overstuffed pillows on the head and back in different using of reading book, watching TV and...
Pros
High-density padding for more comfort and support
Adjustable settings for reclining and footrest
Sturdy and durable construction
Cons
Not the best option for very tall people
---
Best Value Runner Up
If you are on the lookout for deep-cushioned comfort, the Bonzy Home Air Leather Recliner Chair is a reasonably priced option. It is built with a combination of overstuffed padding with air leather, both of which contribute to the durability of the product.
This recliner chair is everything you need for back support and relief from lower back pain after sitting in front of your desk for over 10 hours straight. The air leather is a lot more comfortable, breathable and durable compared to traditional leather, ensuring that there are reduced risks of damage or wear and tear.
It is backed with the one-pull reclining function, which is perfect for the instant comfort that you are on the lookout for. The overstuff armrests are pretty good to relax your shoulders and get rid of the stiffness in the muscles that many complain about.
The darker brown color of the recliner makes it easier for you to maintain without needing to clean it every other week. It is super easy to assemble, which means that you wouldn't have to worry about having a professional over for the work. Just follow the instructions as mentioned.
You get 36-months factory protection for the reclining function and the frame along with 12-months factory protection for the surface fabric, which is pretty good for a recliner of this price range and this caliber.
Bonzy Home Air Leather Recliner Chair is Suitable for:
If you are a sucker for deep-cushioned chairs, this is the best recliner that you can buy for yourself or for your living room decor.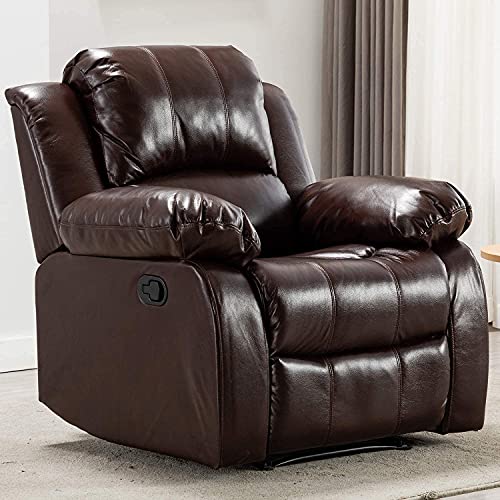 Bonzy Home Air Leather Recliner Chair Overstuffed Heavy...
✅【High quality Material】Overstuffed padding with air leather, this recliner chair allows you to have a more comfortable sitting...
✅【Deep Cushioned Comfort】overstuffed armrests, premium seat cushion, sit back and relax on comfy. Effortless one-pull reclining motion...
✅Generous Sizing: Overstuffed leather recliner measures 36×37×38.6 inch inch with 19,6×19.6×23.5 inch extra thick seat and back...
Pros
Simple one-pull reclining functions
Durable air leather construction
Deeply cushioned chair
Cons
Size runs too small for adults
---
Best Budget
When talking about the best recliner for back pain, you can't miss out on Homall Manual Recliner. This is an OG brand that has managed to serve thousands of customers throughout the year. Even with the affordable price point, this recliner manages to offer optimal comfort for your back pain.
The exterior of the chair is constructed with durable PU leather with comfortable skin-friendly material. The interior of the recliner is stuffed with high-density foam and a sponge that supports your stature and ensure better resilience and permeability.
It has multiple adjustable settings, wherein you can easily change the angle of the recliner from 90-120 degrees for optimal comfort as per your need. The adjustable settings also make it ideal for users to use it for multipurpose needs – you can use it for gaming, relaxing, or sleeping too.
Aside from the breathable fabric of the recliner, it is also designed and constructed with a durable steel frame, which is rust-resistant and long-lasting too. It can support up to 265 lbs, which might not seem like a lot but it does get the work done for the majority of the users.
It has four sturdy and anti-skid feet with non-marking pads that prevent the risks of damage caused to the floor. Another factor that makes this chair recliner one of the best options is the lifetime warranty it is backed with.
Homall Manual Recliner is Suitable for:
The homall single recliner chair is perfect for people with back pain but who don't want to spare a lot of money on a recliner chair. It is one of the few recliner chairs for back pain that is affordable and, at the same time, comes with a lifetime warranty too.
Sale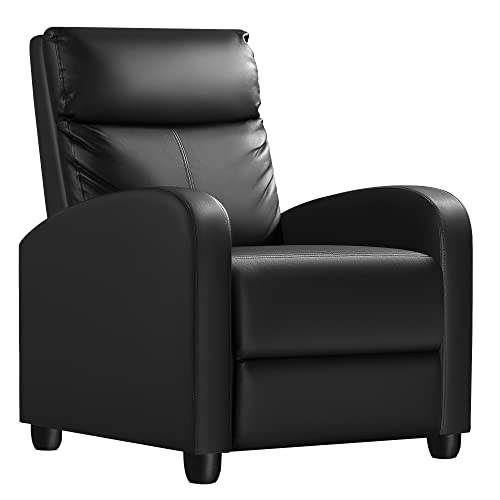 Homall Recliner Chair, Recliner Sofa PU Leather for...
Material: High quality pu leather, comfortable skin friendly and easily cleaned, high density thicker sponge, high resilience and high...
Adjustable Recliner: This recliner can be used as three kinds of shape from 90 to 180 degree, suit for gaming, working, watching movies and...
Upgraded Footrest: Highly durable steel frame with thicker foam padding, better to enjoy your favorite tv shows or rest.
Pros
Breathable and durable fabric
Has anti-skid feet with non-marking pads
Backed with a lifetime warranty
---
Best Budget Runner Up
The last option in the list of the best recliners for back pain relief is the YAHEETECH Recliner Chair. Even this one has a cheaper price point compared to all the other options we have sorted you out with. It is available in multiple colors and is very easy to assemble.
If you don't want complicated and overstuffed designs but want a simple recliner for your everyday usage. Not only does it come with high-quality PU leather, but it is also designed with an adjustable footrest that you can manage according to your needs.
The high-density foam in the chair is backed and supported with a pocket spring coil underneath that work independently in reducing unnecessary strain on the back and helps people suffering from back pain chronically.
One of the unique features of this chair that make it stand out is the three different relaxation modes that enable you to enjoy your favorite sitting experience throughout. It has separate protective feet with non-marking pads for better protection of the floor.
YAHEETECH Recliner Chair is Suitable for:
This recliner chair is ideal for users who are looking for an adjustable footrest with different relaxation modes, all within an affordable price range.
Sale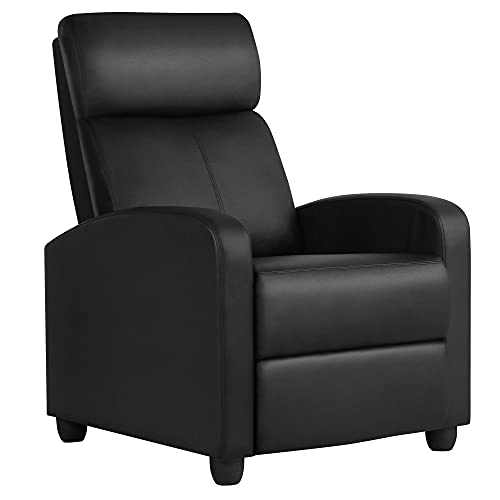 Yaheetech Recliner Chair PU Leather Recliner Sofa Home...
【STURDY HOME-USE RECLINER】: Our adjustable recliner chair is constructed of a strong composite wood frame, naturally soft rayon fibers,...
【THREE RELAXATION MODES RECLINER CHAIR】You can enjoy your favorite sitting positions on this adjustable reclining chair, no matter...
【PROTECTIVE FEET】This single recliner chair sits on four sturdy feet equipped with non-marking pads, which efficiently protects both the...
Pros
Made with high-quality PU leather
Has different relaxation modes
Adjustable footrest
Cons
Construction could be a little sturdier
---
Buying Guide for Reclining Chair for Back Pain
If you are looking for the best recliner for chronic back pain, there are some important features that you need to keep a lookout for. Some of them include:
Reclining Functions
When buying a recliner chair, it goes without saying that you need to look out for the reclining angles and the adjustable features. If you can't recline the chair easily and with a single lever, there is no point investing your coins in it. So, try and look for the options that come with multiple reclining functions and adjustable features.
Material
The majority of the reclining chairs that you buy are either made with leather, faux leather, or PU leather. We'd always suggest that you pick the ones with PU leather since those are most comfortable and breathable in nature.
Additional Features
Another important factor you need to consider is the list of additional features. You can look at heat and massage settings and the power life options for ease of function. Moreover, ensure that you always read through the assembling option because the majority of them come disassembled and you need to put together everything accordingly.
FAQs
Do the Recliner Chairs Actually Help Relieve Back Pain?
When it comes to buying a normal or gravity recliner, you need to ensure that they come with the best reclining option with adjustable functions that support your back and spine to ensure faster relief from the pain that you are experiencing. The flexible chairs are often the best ones that help people overcome their issues with back pain.
What Kinds of Recliners are Ideal for Back Pain?
If you are planning on buying a recliner for your back pain, we'd always suggest you opt for the manual or power recliners. They are considered the best options as they are easy to maneuver and helps you experience maximum comfort after a stressful day at work.
Is Sitting on a Recliner Bad for your Back?
The quality of the recliner is what matters. If your chair has a stiff construction that doesn't accommodate all your body, there are chances that you will start feeling the strain on the legs and the lower back. So, always buy from reliable brands instead of the random ones that you come across.
Conclusion
With so many different recliner options available in the market, finding the best one in the lot can be confusing. I have sorted you out with the top six options that I think are worth considering. But, always ensure that you look through the individual features and only pick the one that best suits your interests. Always prioritize high-quality material and pain relief functions when buying a recliner for back pain.
If I had to suggest one, I'd suggest you look at the Homall Singler Recliner Chair for your everyday needs. It is affordable and backed with all the latest features and functions you'd need to relieve the complaints of back pain and discomfort.