Best Overall
Duramont Reclining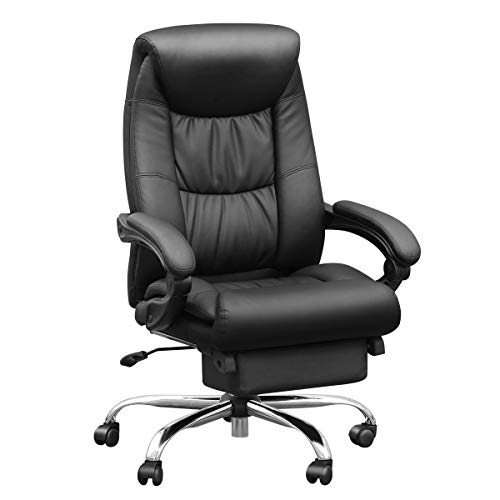 Best Value
Flash Furniture Executive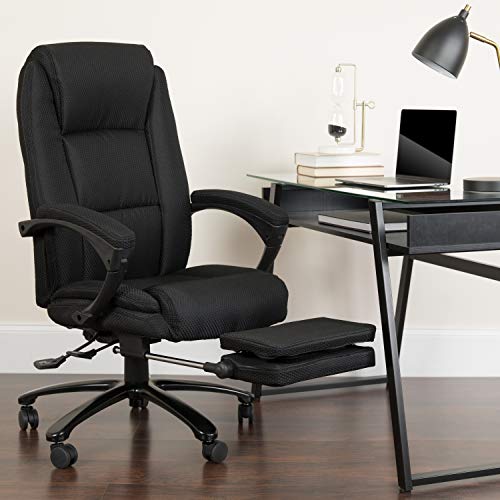 Best Budget
HomCom Executive Chair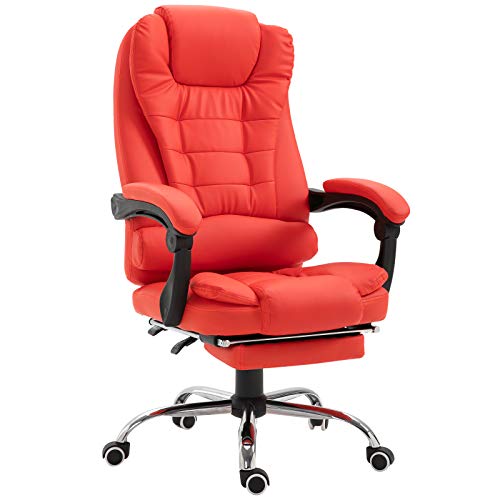 The concept of napping office chairs might seem foreign, but it is an asset that you wouldn't regret adding to your workspace. It is the perfect space to rejuvenate and recharge you after a hard day's work. Letting employees nap during office hours is a concept that was popularized in Japan and was later adopted by countries across the world. 
When buying a napping office chair, you want to ensure maximum comfort with ideal adjustability options for letting you rest after a hard day's work.
Following are the best office napping chairs available in the market.
Best Napping Office Chairs – Reviews
Best Overall
Duramont is one of the best brands when discussing ergonomic office chairs. Not only does it ensure maximum comfort, but it also adds a modern and stylish element to your workspace. The waterfall seat edge with the high backrest provides maximum comfort while you sneak in a 10 minutes nap during your office hours.
The chair provides optimal lumbar support and a footrest that alleviates the discomfort and pressure on your limbs. The soft padding of the chair is another highlight that you wouldn't find in anything else.
It has a flexible reclining design with a retractable footrest that allows you to rest your feet when needed. It also comes with an added lumbar support knob that lets you adjust the pressure accordingly.
The chair is also upholstered with bonded leather, one that's not just durable but extremely good for your comfort. The leather also ensures the increased durability of the chair. The chair's frame is constructed with a heavy-duty metal base with nylon rolling casters for optimal support and stability.
Duramont Reclining Leather Office Chair is Suitable for:
This office chair is the best option for individuals who don't want a very different looking office chair than the traditional options. Aside from the ergonomic support, it seems like a regular office chair.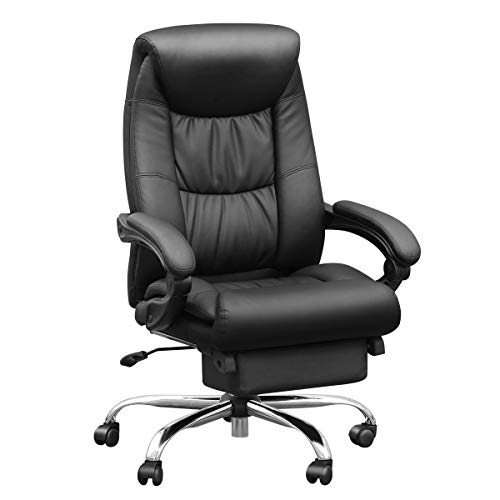 Duramont Reclining Leather Office Chair - High Back...
★ UNIQUE WATERFALL SEAT EDGE - The high back design gives you maximum support for comfort and convenience. The chair has soft padding and...
★ FLEXIBLE RECLINING ANGLE WITH RETRACTABLE FOOTREST - You can adjust the office chair any way you need to so that it can accommodate all...
★ HIGH-END MATERIALS - We make sure that we use the right materials for maximum comfort and style. The chair is made with bonded leather...
Pros
Waterfall seat edge
Flexible reclining design
Upholstered with bonded leather
Ergonomic design
---
Best Overall Runner Up
Another professional-looking office napping chair is the Merax Portland Big & Tall PU Leather Recliner. Aside from the premium, all-black design, the chair also features targeted soft foam cushioning around the shoulders, neck, and back for added support.
This office chair is upholstered with soft PU leather that adds a premium and modern look to the workspace. The heavy-duty frame is constructed with solid metal that ensures long-lasting durability and stability while you nap on the chair.
The chair also comes with built-in lumbar support with an adjustable height with the hydraulic gas lift. The cushioning around the seat and the chair's armrest is exceptionally soft and comfortable, allowing you to have a comfortable seating experience for an extended period.
One unique feature of this chair is the silent movement because the nylon casters don't cause unnecessary screeching noises and don't leave any scratches on the floor.
Merax Portland Big & Tall PU Leather Recliner is Suitable for:
It is a perfect office napping chair for individuals who complain about lower back pain and stiffness around the back and spine.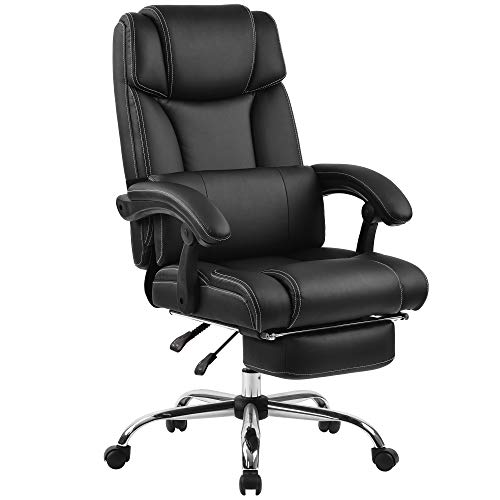 Merax Portland Technical Leather Big & Tall Executive...
Outstanding Look Office Chair: A black double-layered bonded leather office chair, classic tufted design (buttons in segmented thick back...
Work as Computer Chair Cozy as Sofa: Soft high density foam in double-bonded leather for ultimate comfort. Featured with leather curved and...
Height Adjustable Home/Office Chair: This ergonomic chair is fully adjustable. It comes with rock-back tilt mechanism, back pressure and...
Pros
Upholstered with soft PU leather
Heavy-duty metal frame
Nylon casters allow silent movement
Provides lumbar support
Cons
Weight capacity could be better
---
Best Value
Even though this chair is not easily accessible, it is one of the bestselling napping chairs in the market. It is from one of the well-known brands and assures quality and excellent after-sales service without any disruptions.
Like the previous option, even this one features a waterfall edge seat design for a comfortable seating experience. It is upholstered with premium quality lush faux leather that allows you to seat and recline the chair as per your needs.
This chair's waterfall edge design ensures proper blood circulation and alleviates the pain and stiffness around the limbs. In terms of adjustability, it has a pneumatic lever that allows you to adjust the chair's height depending on the height of the users.
This office napping chair's overall construction is made with heavy-duty metal that can sustain higher weight capacity. It also features dual-wheel casters for more effortless movement around the office.
Flash Furniture Executive Reclining Swivel Office Chair is Suitable for:
This napping chair is perfect for taller users who want a more comfortable experience sitting on the chair and even nap, when needed.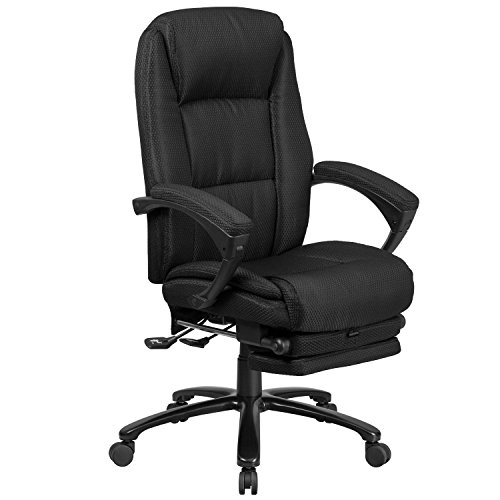 Pros
Enhanced comfort
Heavy-duty metal construction
Waterfall edge seat
Dual-wheel casters for easier movement
Cons
Casters leave behind scratches on the floor
---
Best Value Runner Up
When talking about the best office computer chair, the Hbada Ergonomic Office Chair is a steal. Aside from the budget-friendly price, it also comes with a stunning white and black design that enhances the workspace's aesthetics.
It features a mesh back for enhanced air circulation to keep your back cool and prevents unnecessary discomfort from sweating. It prevents excessive heat build-up and ensures comfort even after sitting for over 8 hours straight.
The reclining chair features an ergonomic human curve design that conforms to the natural curve of your back. It comes with a separate headrest and backrest that allows you to have a comfortable nap without straining your back.
It has a sleek design; it is also extremely durable and has a minimalistic design that blends seamlessly with the interiors. It can recline between 90-150 degrees, allowing you to have a comfortable nap.
Hbada Ergonomic Office Chair is Suitable for:
This office chair is perfect for individuals who don't want a bland looking all-black leather chair. If you like minimalistic designs, this will surely entice your mind.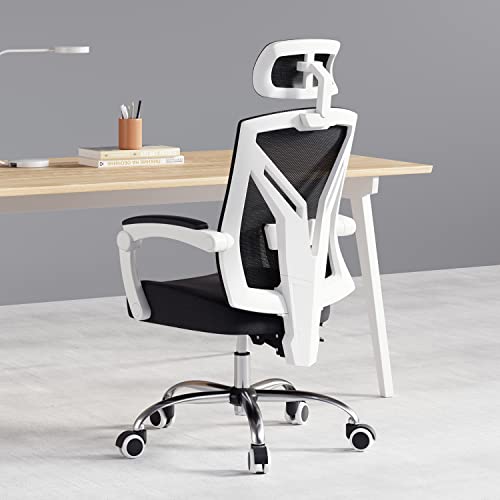 Hbada Ergonomic Office Chair High Back Desk Chair...
DOUBLE S ERGONOMIC - This office chair features Ergonomic-Human-Curve designed backrest and headrest which creates total spinal support. So...
STAY COMFY FOR 8 HOURS - Ergonomic mesh back allows air, body heat and water vapor to pass through, keeping away the buildup of heat and...
SLEEK & DURABLE - Based on Structural Mechanics Principles, this Minimalism style chair is well built and sure is a compelling seating...
Pros
Ergonomic design
Comes with a headrest and backrest
Enables up to 150 degrees reclining
Minimal design
Cons
Doesn't include a footrest
---
Best Budget
Specifically made for your napping needs, the HomCom Executive Chair For Napping is every office goer's dream chair. It is available in three colors – black, coffee and red. Not just for your office, it works well for the gamers too. 
It has a high-back design that lets you align your back and even comes with a headrest to allow more comfort and rest your neck and shoulders. It does come with a separate footrest that will enable you to straighten your legs and stretch them after a long day.
As for the material, the chair is upholstered with soft PU leather that looks premium and extremely durable. It ensures a comfortable sitting and napping experience as well, even when it's for extended periods.
It supports up to 145-degrees recline along with the 360-degrees swivel for more effortless movement on the chair. The chair is also designed with five different casters that spread out the pressure and prevent damage risks.
HomCom Executive Chair For Napping is Suitable for:
Aside from the office goers, this napping chair is also perfect for gamers that are looking for a durable and good quality recliner chair for their gaming station.
No products found.
Pros
Comes in multiple colors
Made with soft PU leather
Supports up to 145-degree reclining design
Made with five casters for reduced damage
---
Best Budget Runner Up
Last on the list of the most comfortable office napping chairs is the VANBOW Big and Tall Reclining Leather Office Chair. It is another chair that provides the maximum lumbar support to keep your spine supported while you sit or nap.
Along with the waterfall edge seat, the chair also features extra soft padding that reduces the pain and strain on the neck, back, and legs. Not just that comfort, even the design of this chair is efficient and fits right in.
The chair has an adjustable reclining angle with a separate retractable footrest for a comfortable nap. It has a different locking system that enables you to adjust the chair's design according to your needs.
It features a premium design with solid all-metal construction for enhanced durability and stability. The best thing about this chair is that it supports up to 400lbs weight capacity. 
VANBOW Big and Tall Reclining Leather Office Chair is Suitable for:
It is perfect for heavy-weight users who are tired of finding the ideal chair to support their stature and weight.
Pros
Elegant and sleek design
Flexible reclining angle
All-metal construction
Supports up to 400 lbs
---
What to Look For When Buying an Office Napping Chair?
When looking for an ideal office napping chair, there are quite a few factors that you need to keep in mind. A regular office chair won't provide the same support and comfort that your body needs while you nap in your office. So, considering these factors is necessary.
Recline
The most critical factor in a napping chair to check is the flexible reclining options. You want a chair that can not just recline but also conform according to your body's shape and provide optimal comfort.
Padding
To ensure a comfortable sitting experience, you want an office chair that has good foam padding inside. It also supports your back and limbs, relieving the strain and pain you have endured throughout the day.
Weight Capacity
Not every office napping chair supports a suitable weight capacity. Some support up to 250lbs, and some can support up to 400lbs. It all depends on the kind of chair you are getting and the type of construction it has. Try and stick to all-metal frames because those come with a higher weight capacity.
Stability
Last on the list is the stability of the chair. The last thing you want to experience while napping is your chair slipping on the floor. So, getting one with durable and supportive caster wheels keeps the chair in place and prevents any risks of damage.
Conclusion
If you were planning on getting an office napping chair, these are the top six options that I would recommend you look into. Make sure that you glance through the features and reviews before finalizing which one is the best one for you.
As a personal preference, I would suggest you stick with the Duramont Reclining Leather Office Chair because not only is it from a reliable brand, it is also made with premium materials and has a sleek and modern design to it.