A Guide to Working From Home
In light of the 2020 Coronavirus pandemic and the rise in enhanced technology for inter-team communication, it's no wonder that working from home is becoming a common aspect of the modern working world. 
Naturally as with any big change, businesses and employees alike may be skeptical about working from home. How will productivity change? How will relationships within the team alter from this alien shift to the regular working environment? 
Working from home doesn't need to be something scary – in fact, there are a lot of benefits to working from home. If you're working from home, possibly for the first time in your career, we've put together this handy guide to help you to get to grips with working from home and optimizing your productivity.
THE BENEFITS OF WORKING FROM HOME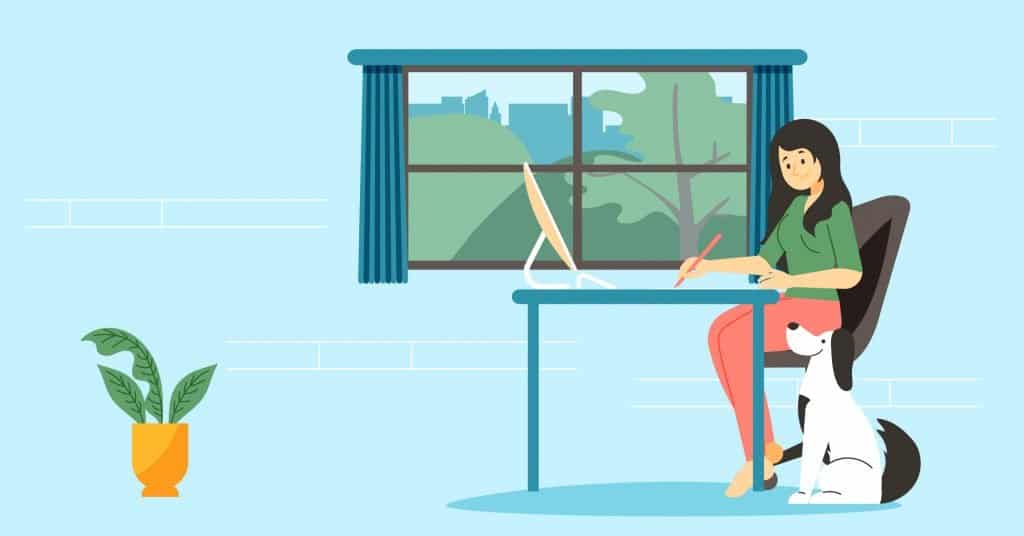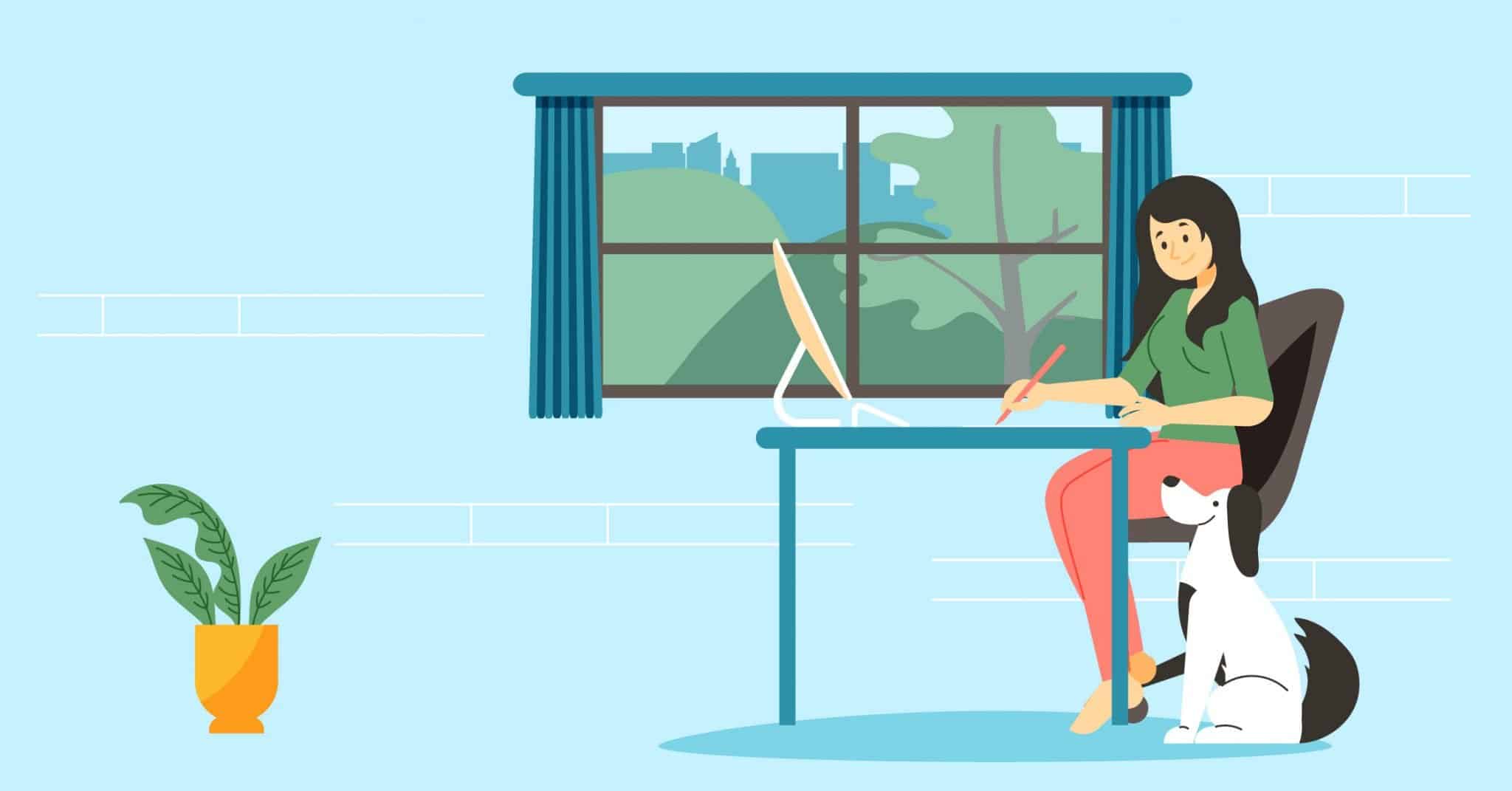 No Commute 
As we've already mentioned, there are a lot of benefits to working from home. To start with, when you're working from home you don't need to spend hours a week commuting into the office. You'll have your own little office right from your home! 
This in itself brings a bunch of other advantages, such as giving you more time to spend with your family and more time to relax, which in turn can improve morale and productivity. In fact, a Stanford study found that employees that are allowed to work remotely are 13 percent more productive than employees that have to stay in the office. 
Comfort
Sometimes you just want to be comfortable, and that's definitely an option when you're working from home. You'll be able to work in your comfiest clothes instead of having to wear a suit all day (unless you want to, that is!) and you will be in a comfortable environment. 
In addition, you don't have to be sat at your desk all day if you don't want to be. You could work at your favorite coffee house, or you could enjoy the great outdoors if your laptop has a long enough battery life to accommodate it. You don't even have to worry about your coworkers telling you that they don't like the music that you listen to as you work because they won't be there! 
Fewer Office Distractions
Working from home also means that you don't get as many office distractions. No arguing with coworkers about whether the AC is on too low or too high, no unscheduled testing of the fire alarms. This means that if you have to make calls you're not going to have to fight to have access to a private room and you're not going to have background noise from a coworker that just LOVES to talk. 
It Costs Less Money
Obviously you are going to see a big difference in where your income goes when you're not spending as much money on commuting, but what you may not know is that there are also some other things that you will save money on. You'll be able to cook your own lunch from home which saves you buying lunch out, and you don't need to spend so much money on a suit and fancy shoes for the office if that's not what you like to wear – you can even spend the day in your slacks if you want to.
But while there are certainly advantages, there are a couple of not so great aspects of working from home, too. 
THE CHALLENGES OF WORKING FROM HOME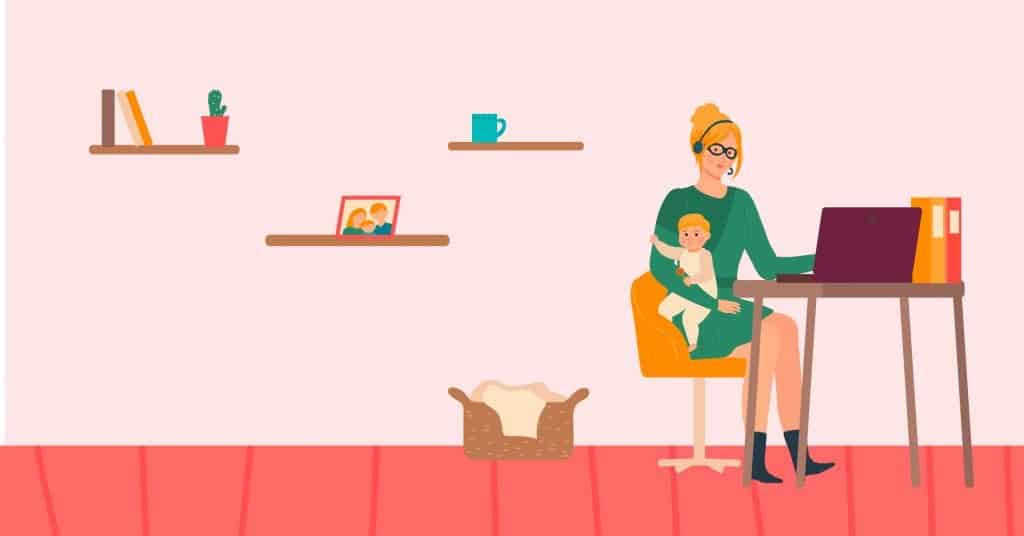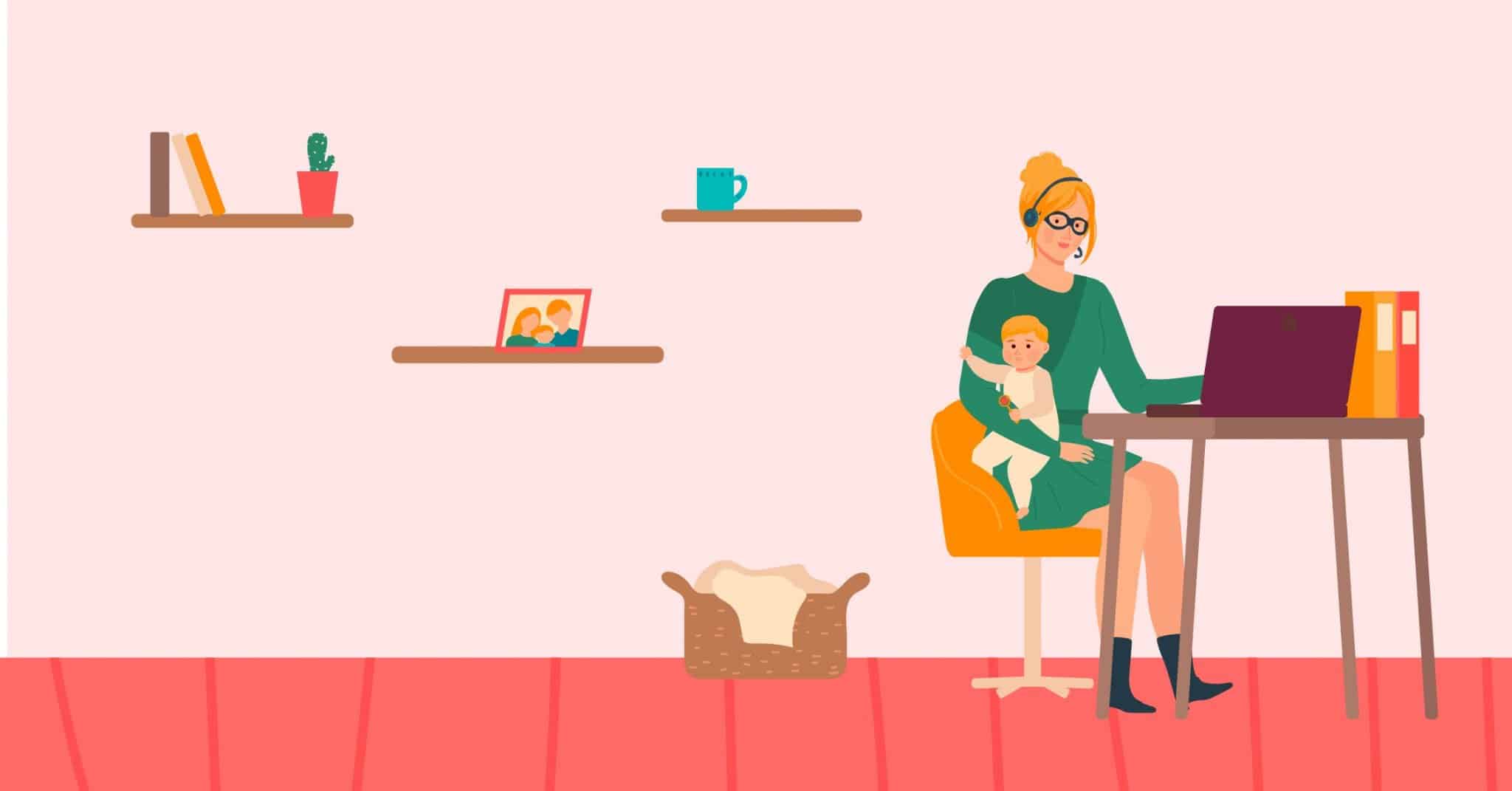 With every up there must also be a down, and this is the same when it comes to working from home too. 
Organization Issues
To begin with, it can be challenging to stay organized when you're working in the place where you live. It can feel a little bit disorienting and it can initially be a struggle to concentrate for some. It's worth trying to work in a different place than where you relax if you have the space so you will be able to separate your leisure space and workspace. If you aren't able to do that then it can be beneficial to ensure that your workspace is kept tidy. 
Time Management
What's the trade-in for fewer distractions in the office? Distractions in the home. That distraction may come in the form of a tiny person begging for some candy if you've been unable to find childcare, or it may be the mountain of dirty dishes staring you right in the face. This is why it's so important when you're working from home to make sure that you set yourself a schedule as though you're in the office, and to designate separate time such as a break to deal with things such as the dishes. This may not be the easiest thing to do with children around the house, though! 
Work-Life Balance
While you will in theory have more time to spend with family, if you're working from home it can sometimes be tricky to switch off from your working life. It's difficult sometimes to see where work time ends and where leisure time begins when your home is your office and vice versa. 
In the same respect, your family members may expect you to do household chores in an instant when you work from home or may expect you to be able to talk about non-work topics when you're working, which can become a little distracting after a while.
Socialization
While our coworkers may irritate us sometimes, they are usually a positive aspect of working life, so it can feel a little lonely to not have that interaction with someone who understands your work day. Having coworkers around can also help with productivity. 
At the same time, it can be tricky sometimes to collaborate with coworkers on a project when you can't just pop down the hall to speak with them in person.
This is thankfully an issue that has a solution, however. Communication tools such as Slack, Google Hangouts and Zoom can be a great asset in staying connected when you are working remotely.
SETTING UP YOUR HOME OFFICE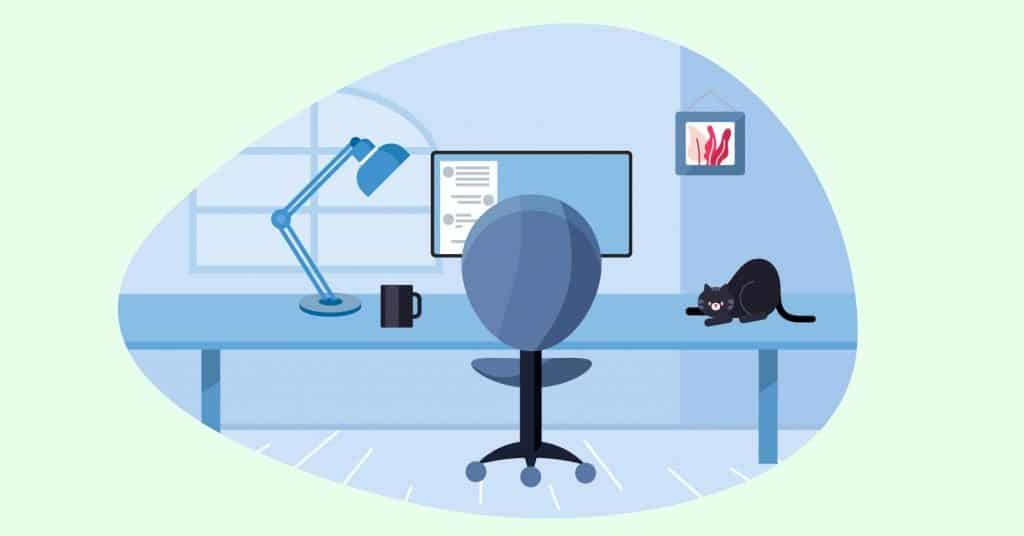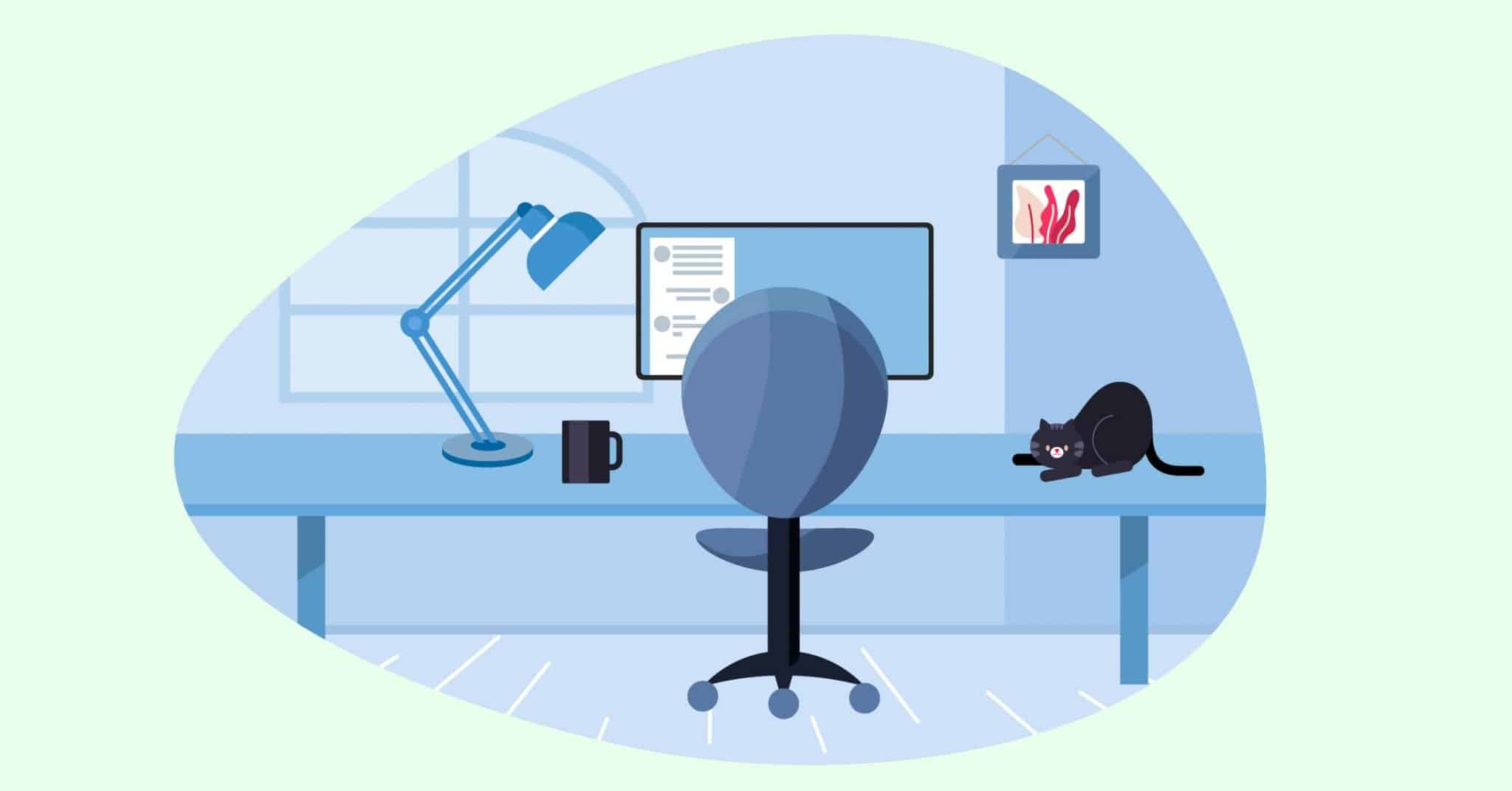 So now that you're working from home, there are some essential items that you will need to ensure that you are working at your peak efficiency, while still maintaining comfort. Here are some key things that you need to make sure are in place when you're setting up your home office. 
Office Chair
You probably spend the majority of your working day in your office chair, so it's important to make sure that you have a good one. 
So, what should you be looking for when buying an office chair? It's important that your chair is comfortable, but in an ideal world your chair should also be ergonomic for the sake of your health. A good office chair is going to have adequate lumbar support for your lower back. A lot of chairs also have adjustable lumbar support too which means that you can make adjustments based on your needs. It's especially important for stopping back strain as this can eventually get worse and become sciatica, which can be a debilitating issue.
You also need to think about adjustability. It's pretty rare these days to find an office chair that doesn't have arm and height adjustments, but the most impressive office chairs are the ones that have at least five different adjustments. Some of them even have up to 14! Some of the key things you should be able to adjust are the lumbar support, arm width and height, the seat back width and height, seat and back angle and tension control. A lot of these supports are controlled using a dial, whereas others are controlled with a pump.
Most office chairs will also have a wheelbase, but if you're working in an environment which is carpeted it's actually possible to get a chair that has wheels designed for carpet. A chair should be able to roll properly so that you don't need to strain to reach across a desk to get an item that's not close by at the time. In addition, the chair should be able to swivel freely to prevent your arms from fatiguing when you're extending them to reach items. The ability to swivel means that you don't have to strain to reach different parts of the desk.
Finally, consider the fabric of the chair. You should ideally opt for a fabric that is breathable in order to stop the chair from getting uncomfortable and hot after a few hours of being sat in it. It should also be cushioned enough to properly support you. 
Desk
Your desk is going to be the hub of your working day, so it's important that you get the right one for you. The kind of desk that you choose is largely going to depend on the space that you have and your personal preference. 
If you have the floor space to work with, you may wish to opt for a larger desk to give you more space to be organized. There are a few options worth considering if you are looking for a larger desk. 
First, are you looking to make your home office a space for you to work alone all day, or will you have a partner or a roommate working alongside you? For one person, you could opt for an L-Shaped Desk for more room, and this way you could set up dual monitors if you like. You could also set up multiple workstations for more than one person. If this is the case, perhaps opting for a long desk or a triangular arrangement would work for you.
Still want the space of an L-Shaped desk but you don't want it to take up too much space when you're not using it? There are also some great pull out desks too that will allow you to extend the desk area when you need to. 
If you don't have a lot of room available to you, then you could opt for an ultra-slim desk. These will generally be wide enough for you to be able to use a tablet or do some paperwork, and they should fit into the corner of a room quite sufficiently. 
Desks can come in a range of different colors too, so if you want something that suits your style, there will certainly be something that does. 
Side Note: Standing Desk Extenders
If you're looking to really optimize your health as you work, a standing desk extender could be a good option for you. Standing while you work can keep you from being sedentary all day and can be a very effective way to burn calories!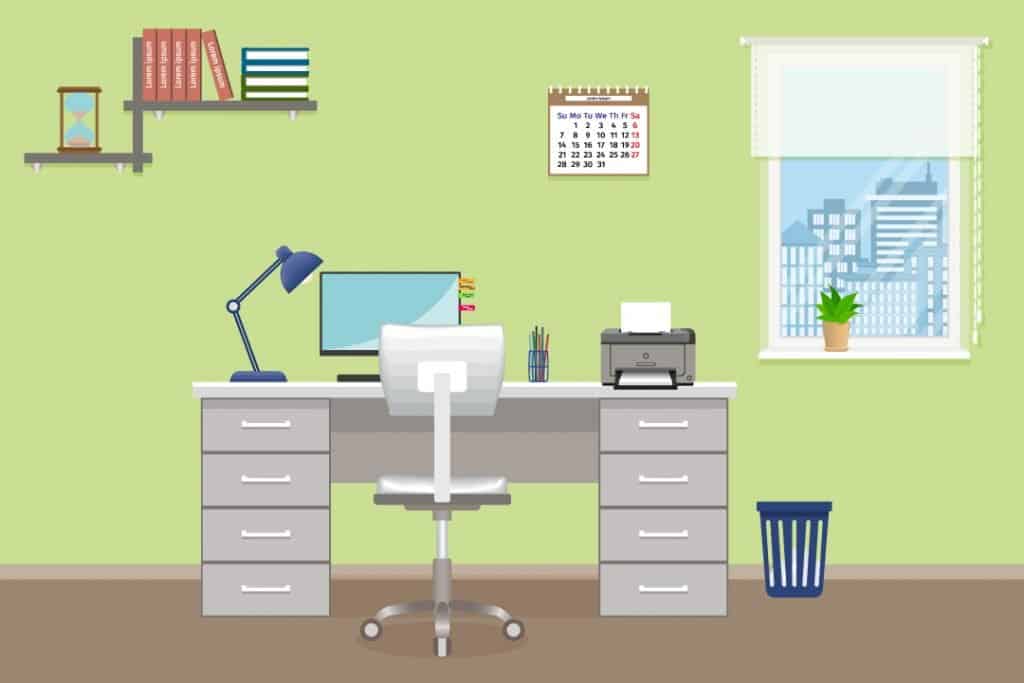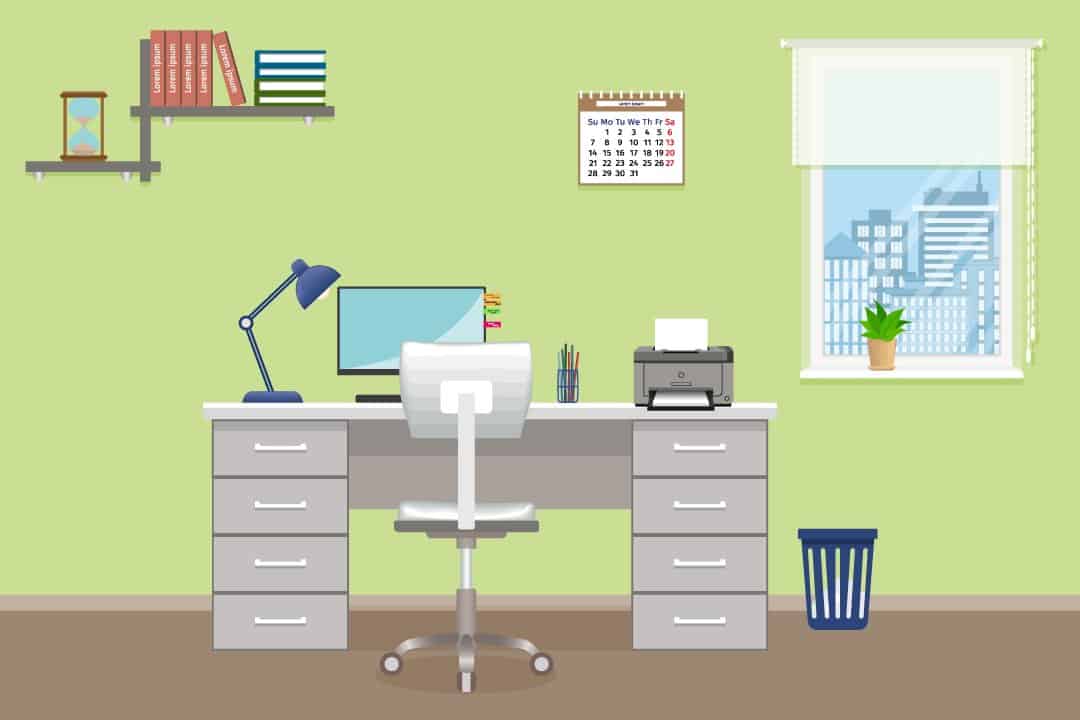 Computer/Laptop
Of course, working from home is pretty redundant if you don't have the tools that allow you to do it in the first place! Most work today requires some form of computer, so it's important that you have a good one. 
You have two options here: a desktop computer or a laptop. What you choose is going to depend on your needs. If you need something portable that you can carry around with you to meetings then a desktop computer is going to be pretty useless to you. In this scenario you will be better off opting for a laptop. Laptops aren't the best option for ergonomics as they can cause you to hunch over – a bit of a disaster for your shoulders, wrists and back! 
The main benefit of a laptop is that they are portable, and there is a wide range of laptops on the market to choose from. For example, there are traditional hinged laptops, 2 in 1s, and even gaming laptops. 
Generally, a traditional laptop is going to cost you less money. As far as specifications go, you should be looking for a 9th or 10th generation Intel i5 or i7 processor, it should have a minimum of 8GB of RAM (more if you can afford it) and 256GB of SSD storage. It's not worth it to get a traditional hard drive laptop, and don't get anything below 128GB.
You will also need to think about the trackpad, keyboard and mouse. A 13 to 14in screen is going to be sufficient for most uses, so you should be looking for a resolution of around 1080p. The higher the resolution is the better image you are going to get. 
On the other hand, if you have a space for it a desktop computer could be beneficial to you. They tend to be much cheaper and you can upgrade them much more easily when the time comes. They also tend to age better than laptops do. Generally, desktops can either come as an all-in-one unit, so the computer is built into the back of the screen (such as is the case with the Apple iMac and the Windows PC) or you can get a tower that you will need to attach a keyboard, mouse, and monitor too.
If you are opting for a desktop, you should be looking for the following specifications to optimize on productivity:
Processor – 9th or 10th generation Intel i5 or i7, AMD Ryzen 5 2500 or Intel i3 on the lower end.
Ram – Minimum of 8GB
Storage – SSD with 256GB of minimum storage (it's worth looking for a large capacity traditional HDD too if the computer provides this as an option).
Graphics card – Nvidia or AMD – more important if you work in a creative content industry. 
Of course, if you're buying a computer you will also need to buy a mouse, keyboard, speakers, a webcam and all of the essential software that you need to do your job. 
Printer/Scanner
While it is true that we are largely in a world now where a physical paper trail isn't that common, being able to scan and print is still pretty important and it can help with productivity. 
While a lot of your country may be on lockdown, you may not have access to a free printer or scanner in the library so you will need a way to be able to scan and print from your own home. While a printer or scanner may be expensive, there are also a lot of affordable options out there if you don't have a lot of cash to spend. 
High-Speed Internet Access & Network Router
There is nothing more annoying than when your brain is going at double the speed of your computer – we've all been there! A slow internet speed can slow you down, which means tasks take longer and you are susceptible to the temptation of the devil itself – distraction. Your productivity is likely to take a big hit if you have inadequate internet access. All that time sitting around and waiting for a web page to load could be otherwise spent getting work done.
To avoid this issue, take a little bit of time to analyze your options for what internet providers are out there and look at what different ways you can access the internet. Have a look at the prices that providers are asking for and compare them with the service you will be getting in return. In addition, it's worth checking out reviews of that provider to ensure that customers have been satisfied overall. 
In addition to high-speed internet, you are also going to need a network router. This is especially important if you have a number of computers or laptops in your house. You will need to make sure that you opt for a router that is going to be able to deal with your connectivity demands. 
When you are on the lookout for a network router you will need to contemplate what size area you will need to cover, and what kinds of devices are going to be connected. A network router with the highest performance may not be necessary, but if you do have a number of people using the network bandwidth at one time then it may be worth considering getting a router upgrade as you start working from home.
Things to Remember When Setting Up a Home Office
Do You Have the Space?
If you're setting up your home office after working from the office for most of your life, there is a good chance that you don't have a designated space available for a home office or a desk. If this is the case, you could work from your dining room table or from another desk in your house. With that being said, you should still make sure that your set up will be ergonomically suited to you and your specific working needs. 
Ergonomics
On the topic of ergonomics, sitting in the right position is vital for your health. When you are sitting, make sure that both of your feet are positioned flat on the ground. Your eyebrows should be level with the top of your computer screen when you're sitting up straight. 
When in an L shape, you need to ensure that your arms aren't angled upwards. Your arms should either be straight or slightly downwards. Similarly, when you extend your arm horizontally, your fingertips should be almost touching the middle of the screen. Make sure that your mouth is as close to you as it possibly can be.
When you are sitting, you need to make sure that your knees are positioned just under your hips. If this is not the case, you could buy a footrest online, or improvise using something like a book that you have lying around the house. In an ideal world you should get an ergonomic chair to support your proper posture.
Speaking of posture though, if you feel like your chin is poking towards the sky then the chances are that you're sitting too low. 
Finally, make sure the lighting in your home office area is sufficient, and check that there isn't a glare and that there are no reflections that could potentially disturb your work.
TOOLS AND RESOURCES FOR HOME WORKING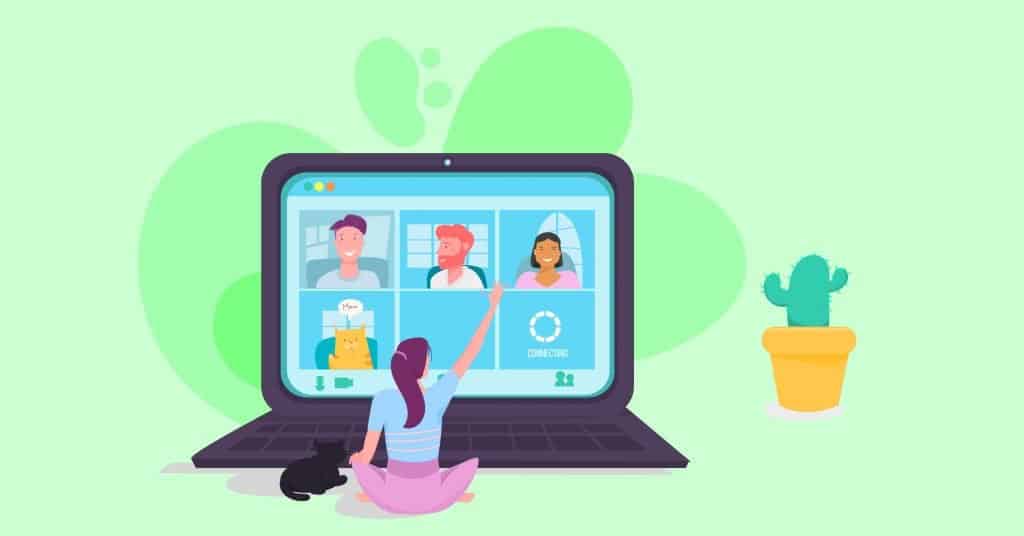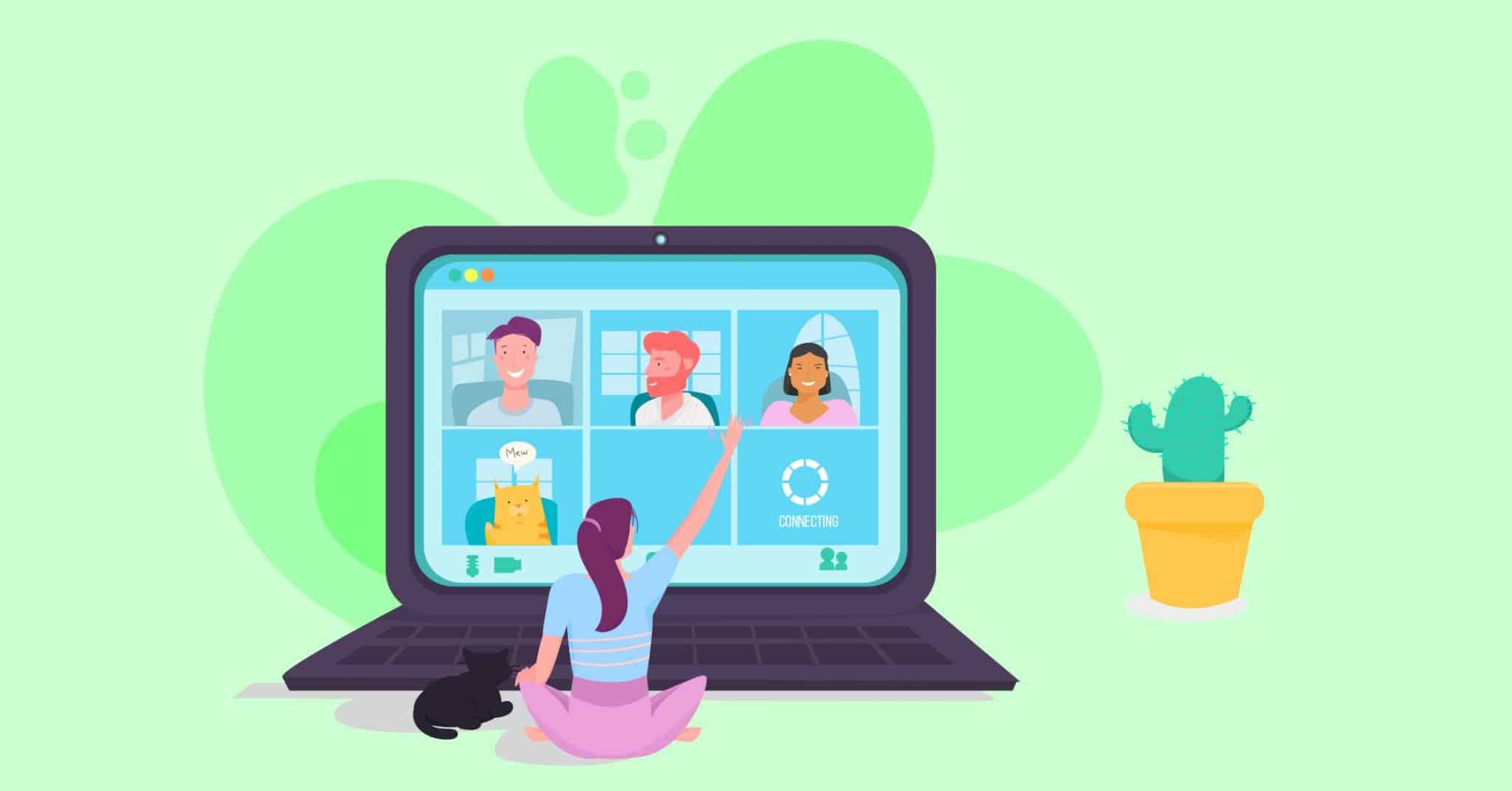 In addition to your key office equipment and gear, there are a few handy computer programs that you should definitely be aware of if you're working from home. 
Slack
When you're working from home and aren't able to shout across the office to your coworker, having an online communication tool is vital. This is where Slack comes in. This program is a total gamechanger!
So, what is slack? In essence, this program is a chat platform that allows individuals to communicate. In fact, it's one of the most popular team communication tools right now. With this platform you can also share files, it has video calling functionality and it even integrates with some other remote working tools such as Google Calendar. 
This platform is essentially a no-nonsense way of instantaneously communicating with colleagues from afar, and it's a great collaboration tool that you are sure to love. 
You may be wondering why you should opt for slack when you already have the option for email. The short answer is that email isn't always the most effective way to get an answer to a question. You also have the potential mess of 'reply all' messages, and messages getting lost in the ether from a very long email thread. With Slack, you can send direct messages and get quick replies, with the ability to direct message coworkers in a more relaxed way. 
Zoom
Zoom is a fantastic tool that you've probably already heard of by now. If you haven't, let us clue you in. This is essentially a remote work tool designed for teleconferencing. As the name suggests, it's also pretty quick to get up and running too! Not only does Zoom have some great capabilities when it comes to video meetings, but it also offers real time chat, video recording, screen sharing, calendar integration and you can even amend your virtual background! If you want to show a coworker how to do a task on your screen this is also easy to do with the screen sharing functionality. 
Google Drive
Google Drive is a simple and effective way to share documents throughout the team without any extra hassle. It's incredibly useful in general but especially so if you're using other Google features such as Gmail, Docs and more.
Google Drive will also allow you to be able to access files when you're offline and from your mobile device (ideal when you're out in meetings!), will allow you to set specific sharing permissions for certain folders and documents and lets you rearrange documents by priority and project. This is a real asset to any remote team. 
Trello
If you're looking for a remote working tool that will help to organize projects among teams, you're sure to enjoy Trello. This handy online software allows you to organize tasks by stages and helps you to ensure that tasks are being properly prioritized by urgency and client demands. It also allows you to organize resources on the platform so you don't need to manually look for files, and allows you to post notes for your team. It's the perfect way for keeping everyone organized both in and outside of the office.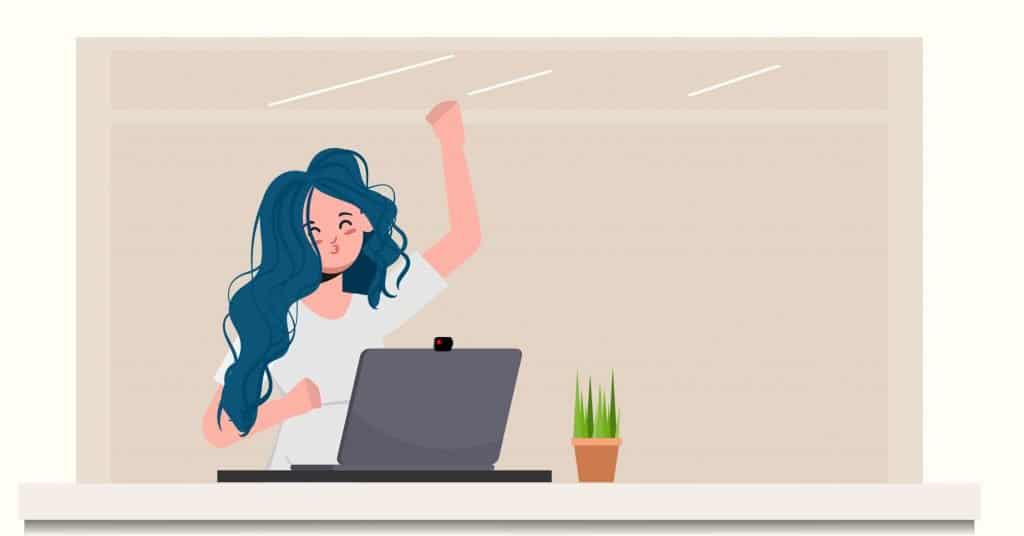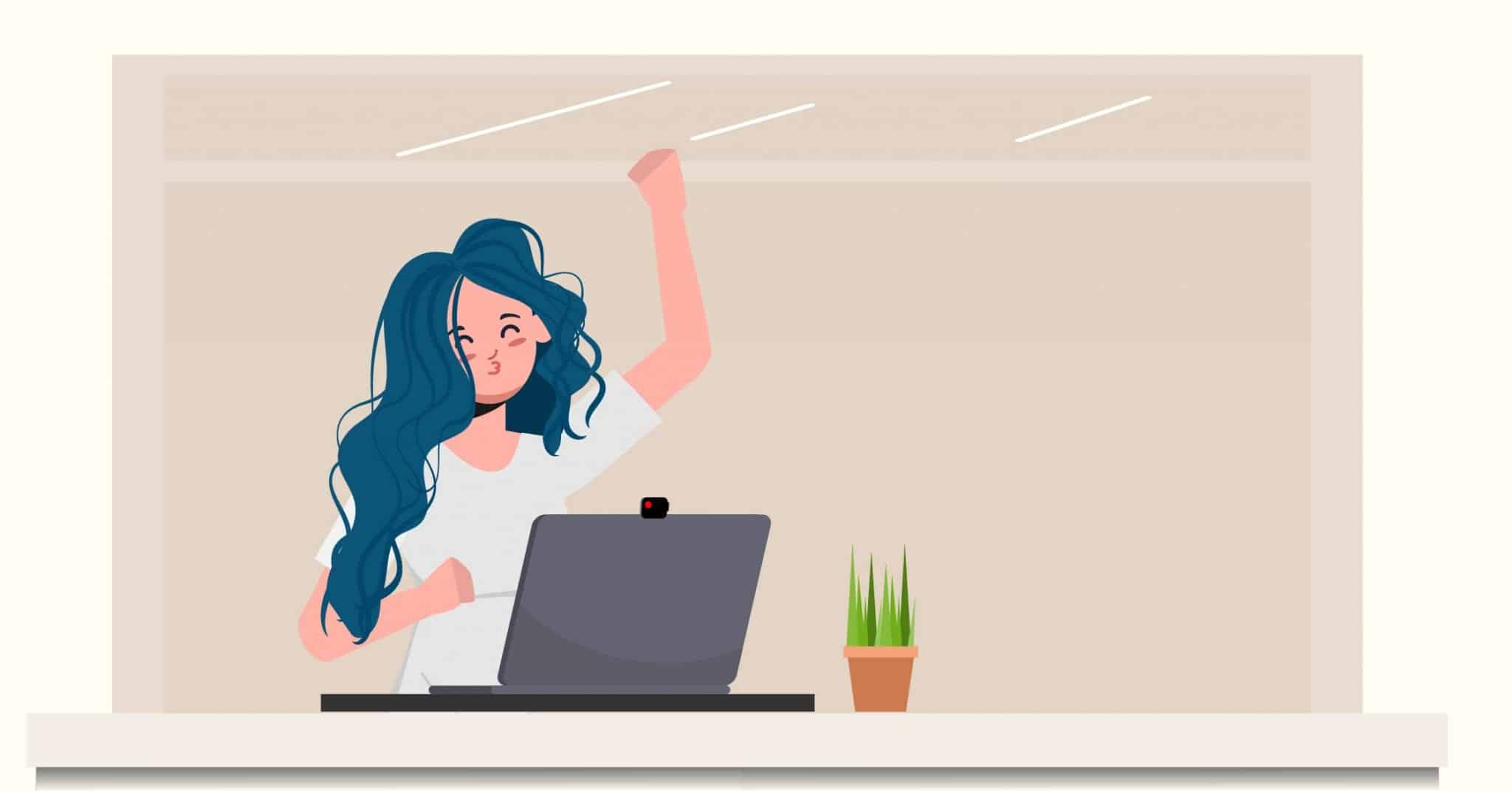 Reduce Distractions
In order to optimize your productivity, it's imperative that you try to reduce distractions as much as possible. For example, if your dog starts barking try to put them somewhere else for a couple of minutes before they calm down. You could also opt for noisy canceling headphones if you aren't going to be working in an isolated area without other people. 
It's also a good idea to make sure that you make sure you have clear boundaries with people you live with, so make sure that your family knows that you can't just get up and do the laundry on demand because you are working in a set time period of the day. If you want to do chores throughout the day it's important that you set realistic expectations about what you can do throughout the working day. 
Know Your Company's Ground Rules & Keep On Schedule
Before you start working from home, it's important that you understand your company's policy for working from home. For example, are there any restrictions on where you can work? Some employers may not be comfortable with you working in a coffee shop because the internet connection isn't secure. 
In addition, is your employer happy for you to work flexibly throughout the day, or do you need to stick to a strict 9-5 schedule as you would in the office? These are things that you will need to consider. 
Keep a Routine
On the topic of 9-5 schedules, it's pretty important to make sure that you give yourself a routine. It can become very easy to get off track when you aren't in the office and you're not used to working from home, so create a schedule for yourself. That includes arranging for break periods to keep you refreshed throughout the day. You should try to start work around the same time every day if you are able to. 
In the same respect, you should also try to finish work around the same time. This may not be possible if you are working to a late deadline or you have an important project that requires a few more hours worth of work in one day, but it's worth aiming to keep to a schedule if possible. You may feel that you need to answer that 11 PM email the moment that it comes through, but more often than not you can wait until the following morning to respond so you can get some rest and relaxation in. 
In between your start and finish time, you should also attempt to get some time outdoors just so that you don't go stir crazy from being stuck inside all day. 
Arrange Extra Periods of Interaction 
It can do wonders for your mental wellbeing to have regular contact with coworkers. Even while you're working home, you should try to still make the time to keep in contact with your coworkers. This way, you will still feel like you're part of a team even though you aren't in an office. 
Some ways that you can stay socially active in your company could include scheduling a weekly lunch date with a coworker, or to participate in a zoom call with the rest of your team just for some team bonding time. 
Dress for the Task
Sure, who doesn't like to hang around the house in the pajamas all day and lounge on the sofa? The issue is, much like working from your bed, wearing loungewear around the house can sometimes mean that we don't get into the headspace we need to be in to get ready to concentrate on the working day ahead because our minds are on relaxing-mode. 
You don't need to dress in a whole suit and tie, but dressing smart as though you are going into the office can help concentration. It can also help to keep a sense of routine. Something as simple as wearing a pair of shoes while you work can switch your brain from relaxing mode to working mode. 
Look After Your Health & Body
Make sure that you're taking your breaks as you normally would! Sometimes when you're working from home it can be easy to lose track of the time which can sometimes mean that you're skipping breaks. Schedule a time for a break, whether that's just to take your lunch or if it's to take a stroll around the neighborhood to give yourself some time to breathe. 
In addition to your break, you should make a little bit of time to get up and walk away from your desk every now and again to walk. This is a great way to get little bursts of activity throughout the day, and it can really help to clear your mind.
In addition to that, make sure that your workspace is properly set up for your wellbeing. Do you have an office chair that is comfortable and suitable for working? If you have additional health issues such as problems with your back, you should make sure that you're using an ergonomic office chair that is going to properly support your body. Make sure that your chair is at the right height to see your computer screen too.
You should also try to work in a well lit area so that you aren't straining your eyes. Every 20 minutes or so you should also be looking away from your screen and refocusing your eyes on something else that's positioned 20 feet away for 20 seconds, according to the American Acadamy of Opthamology.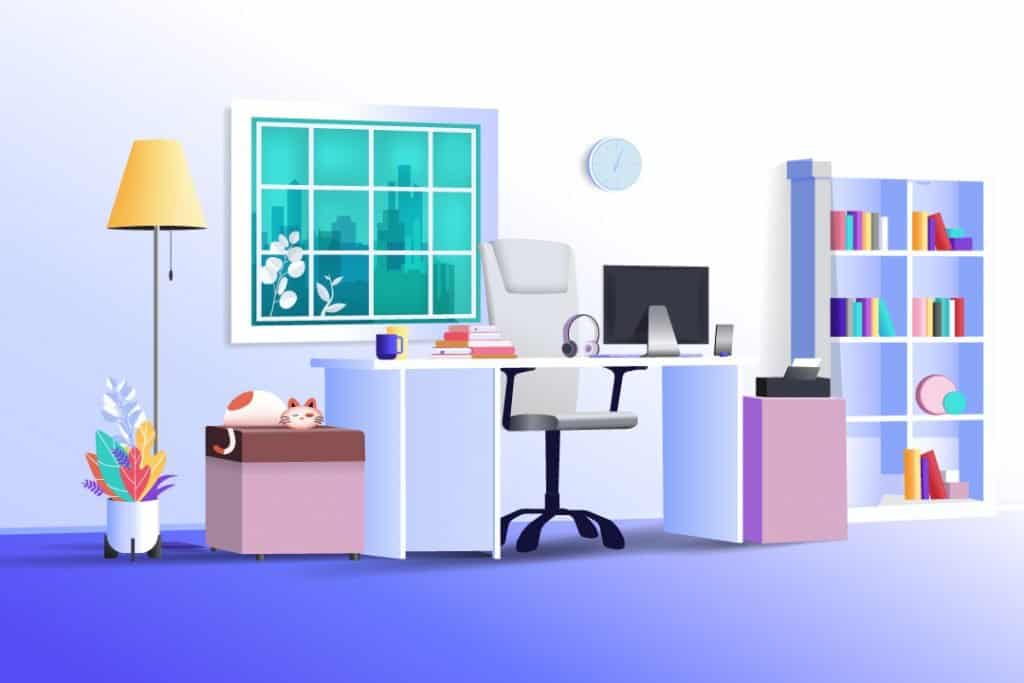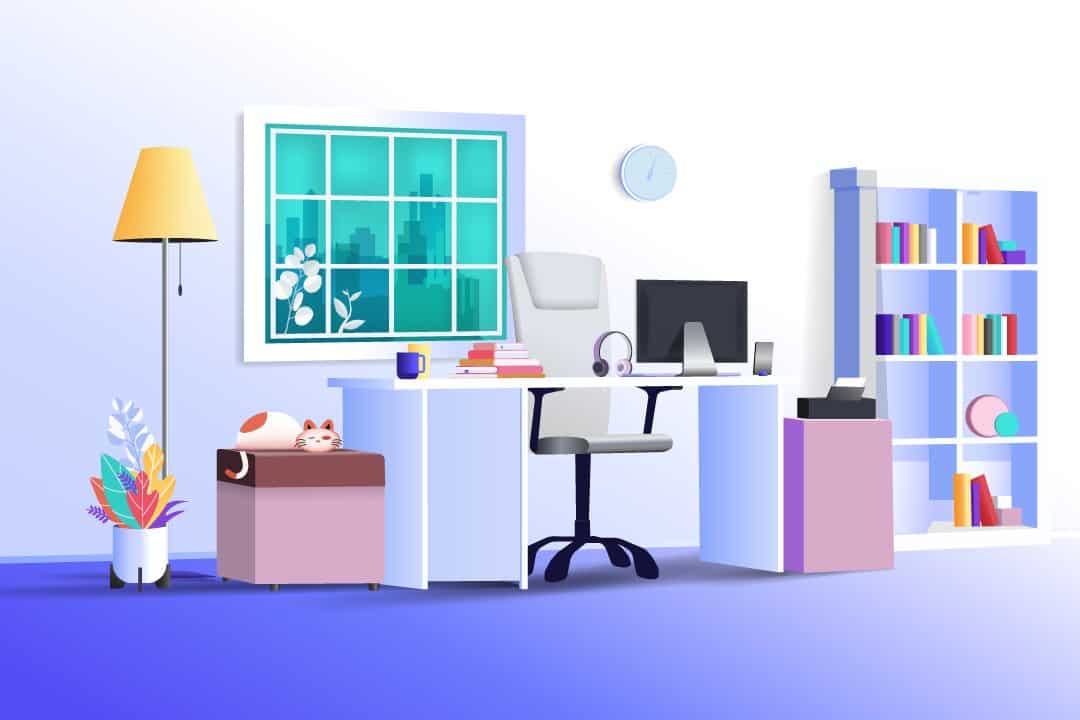 Be Careful Where You Work
If you don't have space or the money to buy a whole new home office set up, you should still think carefully about where you choose to work. For example, working from your bed may sound like a fantastic idea in theory, but in practice, it could be a recipe for disaster. To start with, it can become difficult to get to sleep because your brain will begin to associate your bed with your working environment. In addition, you may start to feel like you're constantly working and it may be difficult to switch off from work as a result.
With that being said, if you do work better from your bed or sofa then by all means go ahead and work from there.
Choose a location in your home that you will be able to disconnect from to some degree once the working day is over. A dining room table may be a good option, for example. It may take a little bit of time to figure out what place in your home is going to be the best place for you to optimize your productivity. 
Have Virtual Meeting Etiquette
You may not be able to have meetings in person, especially if you're reading this during the Covid-19 pandemic! If this is the case, or if you work a long distance away from your workspace, then it's important to ensure that you follow some guidelines for that all-important Monday morning zoom call.
It's worth making sure that you have a decent pair of headphones in order to ensure that you have decent audio quality. Your employer may possibly be able to provide some for you.
Make sure that you also have a reliable internet connection that you can use, as we've covered above. Having a decent webcam is also important. Again, these are things that your employer may be able to provide you with. 
When you're video chatting try not to talk over anyone – you may even wish to utilize your conferencing system's chat functionality so that any questions can be answered once the conversation has ended. 
If you aren't speaking at the time it's also worth muting your microphone so that the rest of your coworkers can't hear your dog barking when an important conversation is taking place. 
Keep a Separate Work Phone Number
If possible, you should aim to have a phone that you only use for work and a phone you only use for personal use. This will mean that you will be able to maintain a work life balance without being disturbed during your personal time.
As we've covered above, working from home can bring a lot of benefits both to employers and employees alike. Working from home can help to improve productivity just for a start, but it's not going to be the best fit for every person. Ultimately, working from home can be a very personal experience and what is going to work best for you is going to depend on both your job and your personal needs.
It's essential when you are working from home that you have the correct equipment, the right working space and a good routine in place. Make sure that you keep connected with your employer and coworkers too in order to keep that sense of community!