Is there any better way of showing yourself some self-love than purchasing a massage chair? Big, lush, and luxurious with a massage far better than any masseuse can offer — a massage chair gives you a Spa Day, every day. And massage chairs can be a minor investment as well, they're not cheap, so it makes sense to put in the effort to research and find the right chair that's worthy of splurging on.
A massage chair can be purely out of the desire to relax more, but for many, it's a vital solution to persistent aches and pains. There is a huge range of massage chairs out there, and multiple different brands offering competitive products and prices. Real Relax is an FDA-approved medical device and a popular affordable brand for massage chairs. In this review, we'll take a look at three of the most popular massage chairs in their range. We'll understand the different features that it offers, and who this massage chair would be perfect for. So let's get right into it.
Table of Content
---
This massage chair is considered the best massage chair that Real Relax has ever released. It's registered with the FDA as a medical device and is equipped with an S-track and rollers that will provide an intensive back massage. One of the highlights of the chair is the 3D robot hands that delivers a thorough and life-life massage. My initial reaction after hearing about the 3D robot hands was being slightly creeped out, but be rest assured that they feel like the hands of an expert masseuse.
The robot hands follow the same S track that is built into the massage chair, and you get to choose from 12 different options for the massage that you want. And you have access to 6 different modes as well, for entirely different relaxing experiences. These modes are just different techniques that vary in motions and pressure, the most noteworthy (and my personal favorite) of all of them being the copycat of Ancient Chinese acupressure.
The Thai Stretch is a mode that happens in recline where compressed disks help relieve pain with a unique Thai scraping sensation on your feet. It feels much better than it sounds! The chair also has an incredible rocking feature, which is more fun than you'd expect. There's nothing like gently rocking yourself on your favorite plush chair while you cozy up with a book after a tiring day. It's actually good for your spine as well.
One of the best features of this chair is the zero-gravity design. You recline back and the chair holds your weight in such a way that it feels like you're floating in the most comfortable padding. It's so realistic that you might actually think you could fall off, but don't worry as the arm linkage system adds extra support and security.
There are plenty of airbags, 50 air cells for your shoulders and feet, which doesn't just feel great but also improves blood circulation. That's not all, the lumbar heat and vibration system will relax even the tightest of muscles
Suitable For
This massage chair is perfect for someone who won't be satisfied with a regular massage chair that you find in a mall. This one is packed with state-of-the-art features and different modes that will provide a different massage experience each time. However it won't be suitable for anyone above 6'1″, so keep that in mind while purchasing the chair.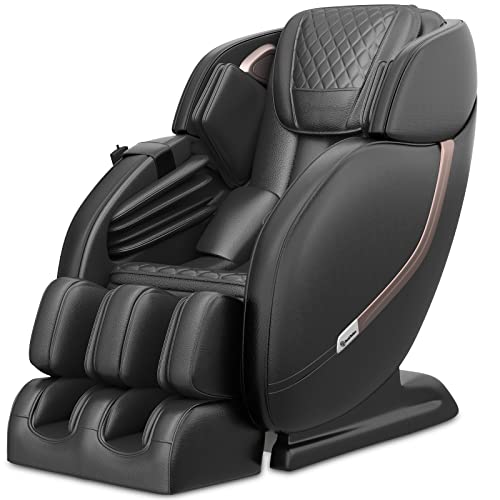 Real Relax Massage Chair, Full Body Zero Gravity...
SL Track: massages your body from head to the leg
One-button zero gravity design, full-body airbags massage
6 auto-programmed massage modes give your body the ultimate feeling of relaxation and revitalization
Specifications
Weight: 230 lbs
Weight Capacity: 400 lbs
Voltage :110-120V
Power: 230W
Model: Favor-05
Height Limit: Less than 6.1 foot
Height: 43.7 inches
Width: 29.92 inches
Length: 57.4 inches
Packing Dimensions: 47.24 x 44.88 x 30.71 inches
Battery or Power: Power Socket
Pros
FDA registered
No installation required
Heat and vibration system
Zero Gravity
Extendable footrest
Bluetooth music system
6 different massage modes
Cons
Height limit of 6'1″
Not battery operated
No rollers for glutes or hamstrings
---
This real relax model is an upgraded version of the Real Relax FullBody Massage Chair Recliner. Instead of just an S-track massage system, this real relax massage chair has an upgraded SL track massage system. That means that you get to enjoy the S track on your back and spine muscles while also having the L shape reach the muscles in your glutes and hamstrings to relieve tension and pain there as well.
4D robot hands are fully equipped in the real relax chair as they work their way up and down, left and right so there's not a spot left un-massaged on your back. You can adjust the speed, tension, pressure, and dexterity of the robot's hands as well.
The airbag massage that users loved so much in the previous model is still there in this one, so you get the air massage options as well. Expect upgraded with upright-wrapped arms: this means that your arms aren't just resting on a cushion, but actually get a deep tissue massage as well. This is a great bonus feature for anyone who works out and exercises regularly, so any muscle tears or sprains can be massaged on the road to recover.
The Thai massage still performs brilliantly on this massage chair. That means you get an exceptional calf and foot massage with the scraping technology. The calf and foot massage is an integral part of the massage experience! Furthermore, this Real Relax chair adds in a head massage which is unprecedented in Real Relax chairs. However, you need to be the right size for your head to be aligned to the unit to be able to relax. The same goes for the foot rollers.
The Real Relax chair goes to zero gravity mode: one of the prime chair features. While some wish that there were three different recline options for zero gravity, it still offers a unique and immersive experience. The Real Relax chair also comes with a remote control that offers 4 auto programs (Relaxing, mild, sleep, and strong). I personally feel that the mild massage is perfect — it's not as light as the relaxing mode but not as violent as the strong mode.
If you think that's all, the Real Relax chair also provides lumbar heat. This works perfectly if it's cold where you stay and the last thing you want is the thought of cold spiny robot metal hands down your spine. The unit heats up and also has a gentle vibration that works wonders for boosting your blood circulation, especially for your hips, calves, and feet. The foot rollers are powerful as well.
One of my personal favorite aspects about this massage chair is that you get to customize your massage. If you're the kind of person who doesn't want a massage to go longer than 20 minutes, you can adjust this in settings and the real relax chair will remember this until you decide to change it again. It's definitely a convenience factor.
You also get a Bluetooth sound system with the Real Relax massage chairs that can play music from your phone. There are 6 auto modes that have different kinds of massage techniques. They include kneading, knock pushes and gentle vibration. You can customize different auto modes for different body parts.
Suitable for:
We think that this Real Relax massage chair would be perfect for someone who's set their heart on a massage chair for a long time, but doesn't have the funds to buy the most high-end chair on a whim. We say this because this Real Relax Massage chair is perfectly mid-range, it's practically a steal for the long list of features that you get. If you were to buy a very cheap chair at an extremely affordable rate, it could very well provide you a good massage, but won't have the cool zero-gravity and heat and other features that add significant value to the entire experience. Like the other chair we reviewed, this one may not be suitable for taller adults.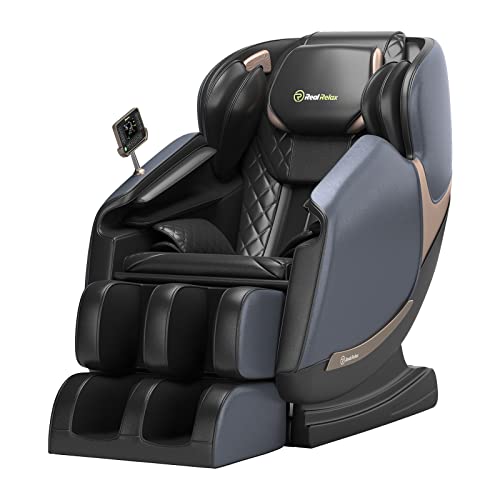 Real Relax Massage Chair, Full Body Zero Gravity...
The dual-core S track robots hands rollers generate a more effective massage to neck stress and back pain, than 8 points fixed back rollers
More effective neck massage: First , press the button to find the suitable neck massage points, then choose suitable massage intensity(3...
6 preset auto programs and manual programs, 3 levels of massage intensity, you can choose the most one fit you.
Specifications:
Weight: 250 lbs
Weight Capacity: 440 lbs
Voltage :120V-60HZ
Model: L1
Power: 100W
Height Limit: Less than 6.1 foot
Height: 43.3 inches
Width: 29.92 inches
Length: 57.08 inches
Packing Dimensions:  45 x 45 x 32 inches inches
Battery or Power: Power Socket
Pros
4D Robot Hands
Upright wrapped arm massage design
Space capsule
Zero Gravity
Can be used as a recliner when switched off
Extendable footrest
6 different auto modes
Heating unit
Glutes massage
Automatic body detection
Cons
Power socket, no battery backup
Heater only in one location
Not suitable for tall people
---
This is one of the best massage chairs that Real Relax has to offer. This is a real relax Shiatsu massage chair, which imitates the ancient Chinese technique of finger massages to relieve major pressure and stress points in the body.
Your entire body is sure to feel rejuvenated after a quick session in this Real Relax massage chair. There are about 8 massage rollers in the backrest, so even though it doesn't have the S or SL track frame that the earlier two massage chairs did, you'll still experience an intensive massage therapeutic session. The zero gravity is also present in this chair, making it an added bonus. Usually zero gravity is only found in higher-end chairs, so to be able to enjoy it in such an affordable chair makes a difference.
There are also 4 options for varying levels of intensity that you can switch between until you decide what you're most comfortable with. Even though there are't different auto modes that have separate massage techniques, the Shiatsu imitation massage does such a good job that it keeps people happy.
The 2020 version does do better compared to the 2018 version in terms of the foot rollers. Not only are the foot rollers better engineered for more relaxation, but they're also equipped with heaters. What's the point of having a foot massage in a cold machine, right? The heat cannot be regulated, however, and some reportedly find it a bit too hot. But if you happen to like the warmth, this could be your favorite chair feature.
The chair also has a stellar air massage built in, with the same 50 airbags that will massage you all the way from your shoulders to your hips, activating the blood circulation for better health benefits.
The remote control won't be mistaken for the old TV remote either: this smart control panel has VFD display screen that helps you understand your posture and recline position better as well as finetune the controls of your massage.
Another feature that's fleshed out in this 2020 chair: Bluetooth speakers. The earlier model was lacking on the bass, but these speakers do really well and sync as fast as you want them to on any device. They're easily switched off with the controls as well, or simply through your phone.
Suitable For:
The manufacturers of the chair specifically mention that this chair is perfect for sub-health people, workers in the physical labour industry who have long working hours and don't get to relax their muscles enough. With its extremely affordable pricing and features that are just enough frosting on the cake, this makes the perfect gift for your parents. It's also great for those who work out a lot since the features focus on muscle relaxation rather than providing bodily support.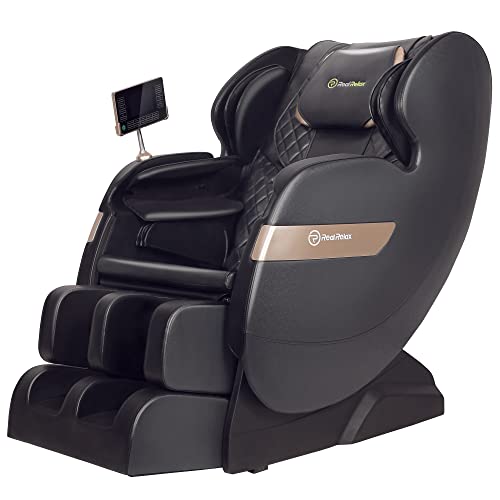 Real Relax 2023 Massage Chair of Dual-core S Track,...
Dual-core S track neck back robots hands rollers up and down, generate a more effective massage to neck stress and back pain, than 8 points...
One button zero gravity, feel ultimate relaxation when the chair is fully reclined.
Full body airbags compression on shoulders, arms, foot and hips, relive whole body pain and tense.
Specifications:
Weight: 217 lbs
Weight Capacity: 400 lbs
Voltage :AC 110V
Model: Favor – 03
Power: 100W
Height Limit: Less than 6.1 foot
Height: 43.3 inches
Width: 29.92 inches
Length: 57.08 inches
Packing Dimensions:  43.5″ x25.6″ x27.2″
Battery or Power: Power Socket
Pros
Air massage
LED breathing lights
Auto modes
Great calf and foot massage
Wheels for mobility
Affordable
Cons
Very heavy and difficult to transport and install
No battery operation
No S track or SL track
---
Conclusion
So these over topic pick for real relax massage chair.
As they don't come cheap so you should better invest it in a right chair.