While the ergonomic furniture market constantly witnesses new claims for ergonomic chairs, there's one ugly truth none of us can escape: sitting is an almost fatal habit. We now know better than ever the numerous adverse effects that sitting for long periods of time can have on our health. And while a chair can definitely improve posture, and provide much-needed support to the back, it still doesn't completely erase these adverse effects.
Until now.
Active sitting might be the sweetest compromise between health and desk jobs that call for 8 hours of seating. It engages your core and makes you significantly more active than the traditional sedentary slump.
If you're a business owner and thinking of bestowing upon your employees the gift of standing desk stools, or just someone trying to upgrade their work-from-home-situation: there are plenty of factors to consider before going ahead with your purchase.
In this article, we've done the research so that we can present to you the top 6 Standing desk stools in the market. Read on to find out which one is best for you.
Learniture Adjustable Height Active Learning Stool
Learniture is one of the leading brands in school furniture — and this active learning stool offers a variety of use (even outside of school). It's a stool with an adjustable height feature, which means it's versatile for all kinds of desks and tables. Raising the height of the stool is a breeze: with the pneumatic gas lift for smooth and easy adjustment.
You'll definitely be engaging your core with this stool. The base is made out of really high-quality thick foam padding for comfort, and it's slightly curved to better fit the shape of your body. One of the highlights of this stool is the rocking motion. You can rock back and forth as well as tilt the chair without it toppling over. If you're thinking rocking back and forth is just a fun activity for fidgety kids — think again! It helps you concentrate while working on a task and strengthens core muscles!
The seat is covered in an easy-to-clean vinyl material that also comes in a few color options. The stool itself is really lightweight, making it easy to transport to places. While the age range for the stool is for fifth-graders, even adults can use this stool comfortably. The best part is this stool is extremely affordable, so it can be an easy switch without having to contemplate if it's worth an investment. A wobble stool like this one has numerous health benefits, and can greatly improve your sitting.
However, it's important to note that this stool isn't a standing stool as the height doesn't reach high enough. Make sure that you measure your standing desk accordingly if you wish to use it for that purpose. On the other hand, if you're not willing to invest in a standing desk and stool, simply purchasing this affordable Learniture stool will let you sit at your regular desk, but with your core engaged and back upright!
Suitable For :
This chair is specifically designed for students: and the company does make school furniture. If you are a school looking to upgrade the school furniture for your students to benefit from active sitting: look no further. That being said, it's also suitable for any adult looking to buy an affordable stool that will go with their work desk.
Sale
Adjustable Height Active Learning Stool - Padded Office...
Easy-to-use pneumatic gas lift adjusts the seat height from 18 1/2 to 28 inches.
The non-slip, curved base features a wide range of motion.Weight Capacity:265 Pounds
Backless design encourages proper posture while strengthening core muscles.
Specifications:
Age Range: 10+
Seat height: 18.5" – 28"
Weight Capacity: 265lbs
Vinyl upholstery
Steel gas lift center support
Some assembly required
Pros
Affordable price point
Adjustable height
Attractive design with color options
Multi-purpose
Cons
Not a standing stool
Can be difficult to assemble
---
Vari Standing Desk Chair
Vari has built a reputation for themselves with standing desks and standing desk chairs and stool furniture, way before active sitting became popular.
This standing desk chair has a few adjustable height positions, while allowing a lot of dynamic range of motion. This means that you can lean on this chair, be perched on it or even sit completely without worrying that it'll fall. It stays really secure and can handle the weight of leaning against it. That's thanks to the bent plywood weighted base. You can also tilt it forward while working if this helps you concentrate better, and easily stretch your legs.
The adjustment mechanism is an air-lift piston, which definitely makes it much smoother and easy to operate. It has a wide cushioned seat for seating, but be warned that this isn't the soft cushion you'd expect. The chair has a slightly domed shape firm cushion to give support to your glutes, but it isn't comfortable to sit on for long periods of time. This is a clever feature, since you're forced to use the chair as a standing stool, and can't sit on it for hours even if you'd like.
There is a very short back rest on the chair, this is to give the lower part of your spine a little bit corrective support, but it isn't enough for you to slouch into the backrest. There is zero pressure on the lower back, and the standing desk chair itself is durable for years. It's definitely priced in the mid-to-higher range, but for the high quality build and years that it lasts, its worth it.
Furthermore, the chair comes fully assembled, which makes the entire experience easier.
Suitable for :
This standing desk chair is considered to be the best in the market and would be suitable for anyone with a desk job that wants to reap the health benefits of standing. It's also been especially useful for those who are post-lumbar surgery. If you're looking for a chair that you can also sit on comfortably, however, this may not be the right one for you. The Vari Active Seat is a purist's active standing stool.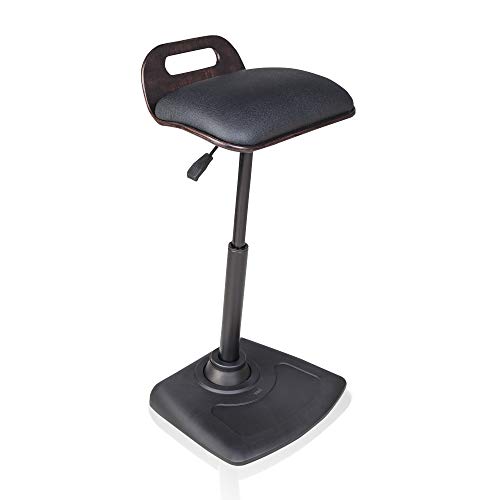 Specifications:
Weight Capacity: 250lbs
Maximum Height: 35″
Seat Dimensions: 17″ x 13.75″
Pros
Dynamic Range of Motion
Sleek and Modern Design
Fully Assembled
Cons
Seat padding is not comfortable
Higher price point
---
AERIS Muvman Sit-Stand Stool
This is the perfect sit-stand-stool, with seat height adjustment that lets you sit comfortably or even lean against it as a standing stool during work. The stool even won an award for its design: the RedDot award for design in 2011!
The seat adjustment can go all the way from 23.5″ to 33.5″, so if you're using this stool at home: you can use it on your dining table for meals and then right back to your standing table for work. But if 33.5″ isn't enough for you, or not high enough to use standing: you can opt for the even higher stool version that goes up to 36″. There's a pneumatic lift mechanism that makes frequent height adjustments secure and easy to carry out.
The Muvman Sit-Stand stool also tilts forward at a 4° of the spring strut. Leaning forward does two things for your body: first it ensures that your spine is not slipping into that C-shape slouch, secondly it helps you focus and stay concentrated. The Muvman Stool is designed in such a way that it prevents you from slouching even if you want to! The 4° tilt will help your body regardless of what your height or body shape is, as well as forcing your chest open for optimal deep breathing.
And for the times where you do choose to rest and sit for a bit: the seat padding is comfortable enough to give your muscles a respite. The cushion seat is soft while also ergonomically shaped to be flexible and adapt to your glute muscles. With a lot of standing stools, you tend to lose blood circulation in the rear end which causes painful cramps and the tell-tale 'numb feeling', but you won't have to go through that with this Muvman stool!
The seat fabric is also breathable, with 88% Polyester, 12% Polyurethane microfibre fabric that won't get you all sweaty and is also easy to clean.
Dynamic movement isn't just fun for you to wobble and rock on the stool: it also frees up your hips and gives them increased flexibility. There are a lot of health hazards from sitting: and having your hips locked in is one of them. This stool has a joint in the baseplate which allows free movement while also having a secure rubber base. This keeps your leg muscles active and engaged as well!
The rubber base itself is made out of non-slip and non-scratch high-quality rubber with a glass-fiber reinforced polyamide base. It's also easy and relatively light-weight to carry around, should you ever need to!
Suitable For :
This is a great stool for someone who wants the versatility and option to either sit or stand. It's especially great for taller people, since it can go up to 36″. As a mid-range stool, this is a solid and durable buy for anyone.
Specifications:
Seat Dimensions – 13″ W x 12.6″ D
Seat Height – 33.5″ for Standard, 36″ for Tall
Seat Angle – 4°
Weight – 13.9 lbs
Weight Capacity – 265 lbs
Warranty – 3 years
Pros
Sitting, Standing or Perch
Durable Build Quality
Range of Color Options
Forward Tilt
Comfortable Breathable Seat
Cons
Height Adjustment Buttons
---
Ergo Impact LeanRite Stool
Rightfully named, The Ergo Impact LeanRite Stool is one of the most ergonomically designed stools on our list. It's also recommended by Ortopedic surgeons and physiotherapists. It's biggest feature might be the fact that it has a foot rest anti-fatigue mat. This standing mat is a great feature because you usually have to invest in one when you make the switch to standing desks. While a standing desk and stool are great for your spine, your feet end up taking a lot of strain. Your body weight begins to fall upon the feet for grip. That's where having an anti-fatigue mat can help you feel like you're floating!
You can switch between three different positions with this stool, sitting, standing, or perch. The front tilting stool also takes away the strain from your tailbone. It's recommended that you use the standing and perch position most often, for optimal results from the stool. But for the times where you want to sit, the cushioned seat provides a much-needed respite.
This stool is actually the one with the highest possible height range (on our list) and it can extend up to 46.3″, so this is perfect for tall people who want to lean back on the stool. It's also ideal for any bodyweight, with a large weight capacity.
However, like many other standing desk stool out there, this one doesn't have the most comfortable seat. The cushion provides more support than it does comfort, and this is probably because the stool isn't designed to give you maximum comfort. It's better used as support for your lower spine than a comfy chair to sink into. On the bright side, you probably won't spend more than a few minutes sitting on this stool: which is the whole point of getting a standing stool.
It's constructed with high-quality quality aluminum and durable polyurethane which can definitely justify the higher price point. This stool will easily last you over 10 years without any issues, and it's also very easy to clean and maintain. Transporting it is a breeze as well, with quick assembly.
It also doesn't have a backrest at all: so it is a purist stool in ever sense of the word. Many people with lumbar surgery or recovering from chronic back pain claim that after the first few days on this stool which can be tough, your body adapts to sitting actively. This stool has also won a couple of awards (three-time international standing desk chair award) and is strongly recommended by medical health professionals.
Suitable for :
This standing desk stool is perfect for taller people as well as patients recovering from lumbar surgery. If you're sceptical about purchasing a standing desk stool, the many accolades and professional recommendations for this chair might be the incentive that you need. It's not the perfect stool for someone who wants to sit for a while, but as a standing and perching stool: it is perfect.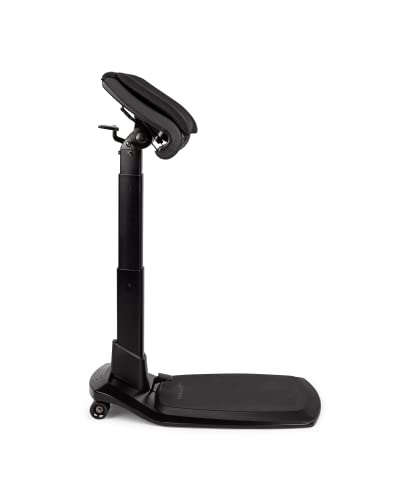 Best Standing Desk Chair for Leaning and Posture...
Promotes Neutral posture for Strong Back: Standing desk chair for leaning, sitting, perch stool. Front tilting seat; reduces "tail-bone...
Feel Energized: Move easily through multiple positions. Only standing desk chair recommended for all day use
Recommended by Ergonomists: A multi-award-winning standing chair, (UL) tested Compliant with BIFMA Seating Durability and Stability...
Specifications:
Height Adjustability: 22.5" to 46.3″
Product Weight: 37 lbs
Adjust Seat Angles: 15, 45 and 90°
Ideal Height Range: 5'0" – 6'4
Ideal Weight Capacity: 270 lbs
Pros
Comes with an Anti-fatigue mat
Many different positions
Sturdy Aluminum Structure
Can accommodate big and tall users
Cons
Doesn't rock
Doesn't tilt forward
Cushion Seat not comfortable
---
The Varier Move Tilting Saddle Stool
If reduced back pain and an engaged core weren't enticing enough for you, maybe this will be: The Varier Move Tiltling Saddle Stool is proven to actually burn calories. This is a Saddle Stool that adapts to the shape of your body and is easy to carry around.
Designed back in 1985 in Oslo by the Norweigian designer Per Oie, this is a stool that is specifically made to adapt to your body. It is also a wobble stool, which allows dynamic movement and the option to stretch your legs. The stool tilts forward for increased focus and productivity and opens up your hip angle to allow your muscles to be activated.
Out of all the chairs we've listed in this article, this one has the most comfortable seat. It's made with more than 2″ of high-density foam padding, as well as being in a saddle style, which supports the natural shape of your glutes. There are no harsh edges on the seat, the rounded edges mean that you have a greater range of motion as sitting on the edge won't cut into you. While it isn't specifically designed for perching, you can also accomplish that on this stool.
This NEAT certified stool shifts the center of gravity to your feet instead of on your lower spine. You'll be surprised to find that you're actually breathing better when you sit on this stool: thanks to increased circulation around your shoulders and neck.
One of the highlights of the Varier Move Saddle Stool is how lightweight it is. So if you're planning to use it all around your house, you won't be lugging it around every few hours. It's easy to pick up, and extremely convenient to adjust the height, thanks to the gas lift. There's also a rubber fixture underneath the seat that makes it easier to hang it up to save space.
The wooden base also sports a unique design: a slightly convex shape that cleverly tilts and wobbles while staying secure. You can move around all you want since that is what the stool is designed to offer: and this dynamic mobility allows much more freedom. Get rid of the idea that you have to sit in one spot like a statue, and embrace your inner child by kicking your legs and fidgeting as much as you want (it's good for your body!)
Varier is headquartered in Oslo, and all their manufacturing happens in Europe following sustainable practices. You can be assured of extremely high quality with their products, and users can enjoy years of use in these ergonomic stools.
Suitable for :
While this stool is great for anyone wanting to make the switch to active sitting: it's better for those who are keen on a stool that grants free range of motion. While this is a good standing stool, it gets bonus points for having thoughtful design for sitting as well. If you think you'll be sitting almost as much as standing on a stool: look no further. If you happen to be a musician, such as a drummer or a piano player, you'll be happy to know that this stool is widely used by both professions!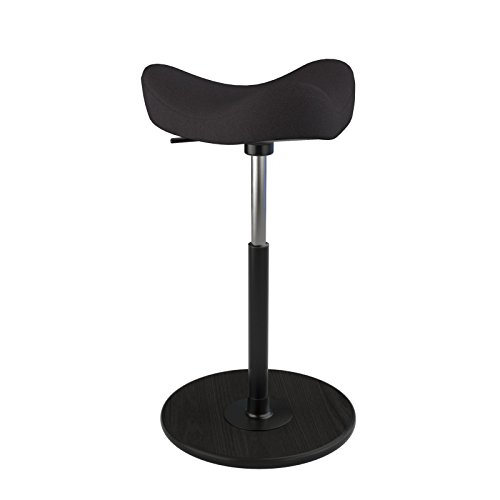 Specifications:
Item Weight 15.5 pounds
Height Range: 22″ – 32.5″
Dimensions 17.6 x 16.1 x 9.4 inches
Color Options: Blue, Black, Grey
Pros
Dynamic Range of Movement
Saddle Seat Designed for Glutes
Durable Build
Thick Cushion Padding
Convex Base
Suitable for Musicians
Cons
Higher Price Range
Not good for Perching
No foot mat included
Detailed Assembly required
---
Songmics Swivel Standing Stool
This attractive looking standing stool isn't just a pretty face. With incredible features and a competitive price, it might be our favorite standing stool on the list.
This ergonomically designed stool has a wide cushioned seat, with over 3 inches of high-density reflex foam padding. That's more comfort than any other stools on this list, and it provides decent lumbar support at the same time. The stool also has a small back rest which provides additional lumbar support while being easy to lean back on in times of rest. You end up engaging your core muscles when sitting on this stool, and it really helps to get more active.
You can also swivel or tilt or swerve as you like on this stool. It moves very easily and quietly, and can actually act as a stress-reliever simply because it's so fun to spin around on this stool. The tilt feature is robust as well — you can tilt up to 8°. The free swivel design can move in any direction, with the incredible added feature of auto-return. The rebound function means that the stool will literally bounce back into the correct position after you move it up to 90°. No more contorted stool that you can't figure out how to put back. This is also easy when you're getting up from the stool as it naturally goes back to the correct position and helps you up. This is the only stool on the list with the rebound function.
You can also adjust the stool to your ideal height. The stool doesn't have a recommended height range, so you can comfortably adjust it according to what feel right for you. It can go from 23.6″ to 33.3″ according to your height as well as the height of the desk you are using. And don't worry about maneuvering any creaky cranks to adjust the height. There are two smart buttons that help you to either increase or decrease the height smoothly. There are handles on the side of the stool for you to rest your arms, as well as for ease of moving the stool around.
It's also built in with an anti-slip bottom pad that ensures you don't fall while adjusting the stool as well as protecting your floor from any scratches. The stool is great for sitting and standing, but some users complain that it's not secure enough for perching or leaning on it completely while in a good posture.
Other than that caveat, the sleek and modern design will ensure that this stool fits right at home, or in your office space. At its price point, it has the maximum unique features for a quick and reliable buy.
Suitable for :
This is the perfect standing stool for anyone on a budget. As the most affordable stool on our list, you get benefits of good posture as well as engaged core muscles. It's also great for someone who will be doing mostly active sitting on this stool, and may not have a standing desk to perch on. If you need to generally move about on your stool and grab something, this one will really help you out.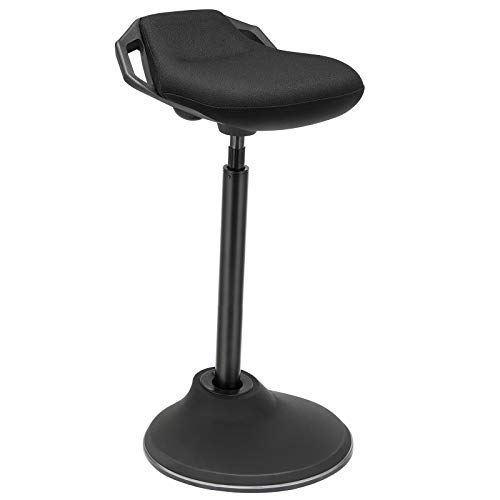 SONGMICS Standing Desk Chair, Adjustable Ergonomic...
Facilitate Your Work: No matter if you're in the office or at home, this work stool will facilitate all your movements from one direction...
Comfort Every Workday: Treat yourself with this large, comfortable seat upholstered with high-density reflex foam, and make it where a...
Adjust to Your Height: Press the button under the seat to adjust the stool to the height you need (23.6"-33.3"), so you can always sit...
Specifications:
Color Options: Black
Materials Used: Polypropelene, Foam, Steel, Polyester
Seat Size: 14.9 inches
Base Size: 15.5 inches
Stool Weight: 17.4 lbs
Maximum Weight Capacity: 264 lbs
Pros
Affordable Price Point
Suitable for any height
Innovating Rebound Technology
Anti Slip Bottom Pad
Comfortable Seating
Easy Assembly
Cons
Not as Durable as high-range stools
Not suitable for perching
---
How to Choose the Best Standing Stool
We've done our research and compiled a list of the 6 best standing stools in the market, providing you with comprehensive features and pros and cons. However, you still might be wondering what would be the best pick for you and your lifestyle. The key to knowing the answer to this is understanding what your body needs according to your work life. Different kinds of people search for standing stools: post lumbar surgery patients, people with hip joint problems, or even healthy people looking to incorporate fitness into their day job. Understanding yourself is the first step to ensure you don't get confused between seemingly perfect options.
We're going to detail a few of the concepts you should be familiar with before purchasing a standing stool, and then get into the different features of a stool that could influence your decision!
The Health Hazards of Sitting
Even if you're a gym freak, an athlete or a person with a serious active lifestyle: sitting for more than 8 hours a day can have some adverse effects on your health. While it is definitely worse for people who lead a sedentary lifestyle, sitting for long periods of time is dangerous no matter who you are.
Men who sit for more than 6 hours a day are at 48% increased risk of death while women who do are at 94% risk. A 2011 research study also linked prolonged sitting to diseases like diabetes, obesity, cardiovascular disease, and cancer. In fact, if you exercise everyday but sit for up to 15 hours, you're at the same health risks as someone who doesn't exercise at all.
And while you might hear some people make claims such as 'Sitting is the new Smoking', it's not as dangerous and life-threatening as smoking cigarettes, but can still have significant impacts.
What is Active Sitting?
Active sitting, also called dynamic sitting, refers to engaging your muscles during the act of sitting. This can be your core muscles, or your back or even your legs. Activating your muscles ensures that you are doing some form of mild exercise and burning calories, which is much more natural for the human body than complete stationary mode.
While you can always try to switch to a treadmill or a bouncing ball — unfortunately your work may demand some degree of concentration or focus for you to complete your tasks. It's not always possible to strategize or type out an email while panting on a treadmill. And while organizations increasingly care about the wellbeing of their employees, most do not want it to be at the cost of their productivity.
That's why standing desks are a great compromise. They allow you to engage some of your muscles and improve your posture while sitting so that you can be involved in mild exercise while also getting tasks done.
Different Kinds of Standing Stools
Leaning Stools
On a leaning stool, you place the standing stool in an inverted position and lean on the seat base with your lower abdomen. This allows you to engage many muscle groups, namely the core and focus on your posture as well. Tilting forward also increases focus and memory capacity. You might need to purchase a foam mat or anti-fatigue mat for your feet so that they don't take too much strain.
Perching Stools
Many Standing Stools also function as perching stools. In a perching stool, you are halfway between sitting and standing, as you rest your glutes on the absolute edge of the seat. This is especially beneficial for someone with hip joint issues as it really opens up the hips and allows a lot of flexibility of movement. It doesn't just engage the core but also works on your leg muscles.
Saddle Stools
In a saddle stool, the seat is built much like the saddle you put on a horse — with two raised domes at the end and in a triangular shape. It's the best stool for providing support to your glutes and is great sitting for slightly longer periods of time. However, a saddle stool won't work for perching.
Wobble Stools
In a wobble stool, the seat is a dome shape, like half of sphere. It is never going to be as comfortable as a saddle stool, and intentionally so. You have to do quite a lot of work to stay put on the stool, which automatically makes you engage your back, hips, legs and also improves your balance. The stools are built to move around with you, while staying secure at the bottom. It's also great for people who tend to fidget a lot.
Final Words
So there you have it — a comprehensive guide on everything you need to know about standing stools to make your decision. If you're on a budget, we wholly recommend the Songmics Swivel Standing Stool without further thought. If you're looking to equip a learning space with standing stools, look no further than the Learniture Adjustable Height Active Learning Stool. The other four standing stools we mentioned are all premium high-end choices, and you can easily make your pick based on which muscle group you want to engage.
Kudos to you for making the important switch for your health, and your body will no doubt thank you for taking care of it!